Editor's Note: For our Female Leadership in Finance Series, FutureCFO editor Teresa Leung recently had a chat with Vyin Ng (pictured below), CFO at Microsoft Hong Kong.
If you think a finance person is focused only on numbers and shy away from changes, think again. Ng is keen to try new things and sees the similarities between wakeboarding and her finance journey.
She shared with our audiences her career journey and advice on how female finance professionals could reach the CFO position.
FutureCFO: Can you share with me your finance career journey? When did you start to become interested in finance?
Vyin Ng (VN): I was eager to know more about accounting — an interest encouraged by people close to me — while being curious about management information system (MIS). Thus I did double major in accounting and MIS when attending university in Canada.
Looking back, I felt that was a choice still relevant today because data or information management matters (to businesses). Knowledge in these two areas provide me with a solid foundation for "connecting the dots" and seeing trends from data.
I started out as an external auditor at Ernst & Young after graduation. Then I was with a MNC label manufacturer for five years before joining Microsoft. These past experiences are important — at Ernst & Young I gained exposure to different businesses which helped me grow in maturity while at the manufacturer I had the chance to take up different roles such as internal auditor, regional office roles, and local business unit controller.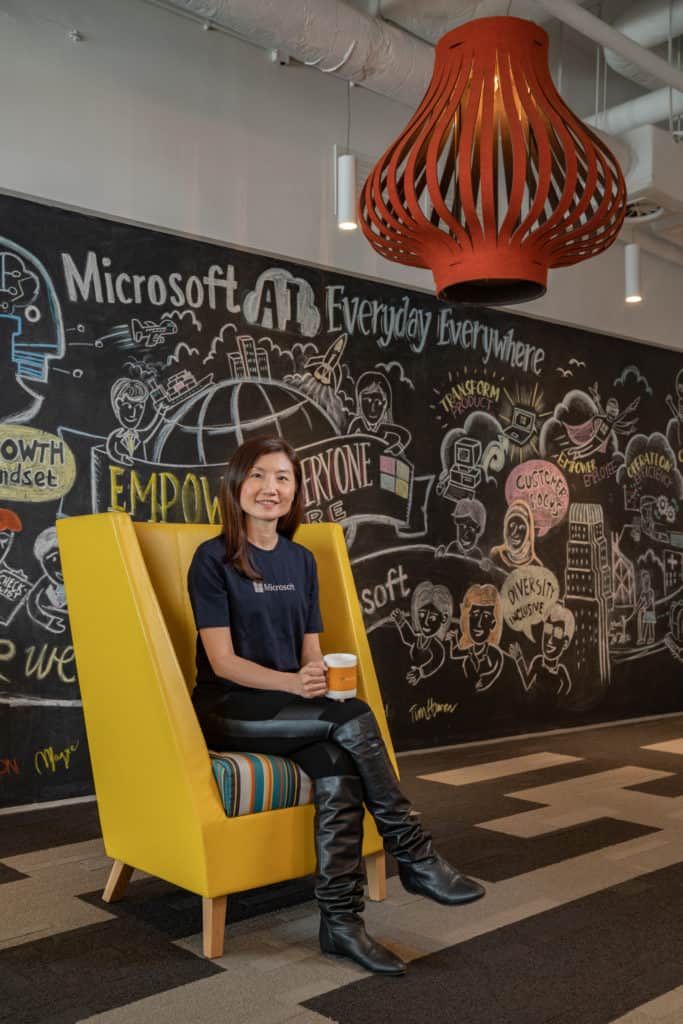 FutureCFO: What are your responsibilities as the CFO at Microsoft Hong Kong?
VN: While transactions-related duties and month-end closing are of lower priority now, I've a range of responsibilities:
Business review: This is the review of performance after every closing — the company's business strengths and weaknesses, areas that need corrections, and areas that need more resources. This is made easier by a portal to which I've access.
Strategic planning and budgets: This is about longer-term resources planning.
Compliance: Finance plays a leading role in in the compliance committee in Microsoft to ensure a culture of compliance. We also use an AI-based analytics tool to automate the checking and scoring of all deals and know the high-risk ones that need reviews and validations.
People development: As part of the leadership team in Hong Kong and Greater china, I need to ensure that my team keeps learning daily and their development today will help them meet their career goals. For instance, if someone from the finance team is interested in a business role, I'll help to explore the possibility.
External engagement: My team shares with finance teams of other organisations how we use technologies to drive efficiencies and solve problems.

FutureCFO: What are some of the biggest challenges facing you as a CFO today?
VN: One of the biggest challenges facing me is the fast and rapid change daily. Finance needs to keep up with fast changes as we have to stay relevant to business and give it our advice. This requires me and my team to back up our advice with data. While the volume of data we have is huge, the data themselves also keep changing.
In addition, as transactional tasks are of lower priorities and can be handled by different tools today, I need to help people in my team develop their business acumen so that they can keep up with business dynamics and be engaged in high-value activities.
FutureCFO: Do you find gender an issue in your career? Or is it an issue in the finance and accounting profession in general in Hong Kong?
VN: I don't find gender an issue in my career journey. At Microsoft, 45% of the leadership team in Hong Kong is female. The GM and the COO are also women.
While sustaining on a wave is great, I need to risk falling if I want to try something new such as jumping on a wave
FutureCFO: What's your advise to female finance & accounting professionals who aspire to become CFOs?
VN: Don't worry about if something's too tough or whether you are capable of doing something. You need to try different roles and learn from what you do in those roles. In addition, you need to ask why a certain function exists and its value to a business. These questions help you develop as a professional.
Don't be afraid to ask questions and give suggestions. At Microsoft, regardless of your gender, our colleagues are encouraged to speak up, ask questions, and give suggestions. Nobody should feel embarrassed when asking a question — it helps people to know if you understand something.
In finance, I encourage people to look beyond numbers because number skills alone won't get you to the CFO position. When you become a CFO, you will need to work with the leadership team to come up with long-term strategies which require more than just number skills. It requires the capability to see the whole picture to manage and allocate resources and develop skillsets to drive business growth.
FutureCFO: Tell me something about yourself: What are you hobbies? How do they help you relax outside work? Do some of them inspire your work?
VN: I don't have enough time for my two hobbies: painting and wakeboarding. I've been interested in painting since childhood. It helps me relax and take my mind off numbers. Finance is very structured and sequential, so painting — a creative activity that is not about sequence — helps me find balance.
While wakeboarding allows me to be in touch with nature and the outdoor, it's also reminiscent of my finance journey. While sustaining on a wave is great, I need to risk falling if I want to try something new such as jumping on a wave. So I've to decide if I continue to what I'm doing or risk failing when doing something different. This is similar to my experience in finance: I might fail when trying a new role and I've to make a decision.
FutureCFO: Do you have any regrets in your career journey? If you were given a chance to go back and make a change, what'd you do differently?
VN: I wouldn't call this a regret but I wished I could try more roles at Microsoft, but this was only possible if I joined the company earlier.
As I wasn't a tech person, I never thought I'd join Microsoft. After I joined the company, I wasn't sure if I'd stay long because it was a very fast-paced company that had a lot of data I needed to deal with.
Up to now, I've stayed in this company for ten years already. There are lots of learning opportunities here. I've tried different roles and had an opportunity to work in Singapore as part of the APAC regional team for three years.

Still there were some roles I'd love to try and I'd be able to do only if I could join Microsoft earlier.
FutureCFO: Can you name a role you'd like to try?
VN: Compensation plan design. At Microsoft, this role is about coming up with annual compensation plans that align with the company's priorities, instead of simply calculating remuneration and quotas.
FutureCFO: If you had a chance to make a career decision again, would finance still be your choice or is there something else you'd like to try?
VN: I'm interested in startup business. It'd be a great experience because you'd need to start from scratch instead of working in a already structured environment, manage different functions, and connect the dots to grow a business.