The CFO is increasingly taking co-responsibility for the technology direction of the business. The traditional finance responsibilities have not gone away. These are table stakes. What has happened is that the CFO of the digital economy now has to evaluate technologies, research new opportunities and build partnerships.
Brainyard, in partnership with Oracle NetSuite, surveyed 166 CFOs across 23 industries, to learn how their job is changing and how they view their priorities. Asked to name the biggest challenge to their role, 38% of surveyed CFOs said managing their myriad and evolving responsibilities.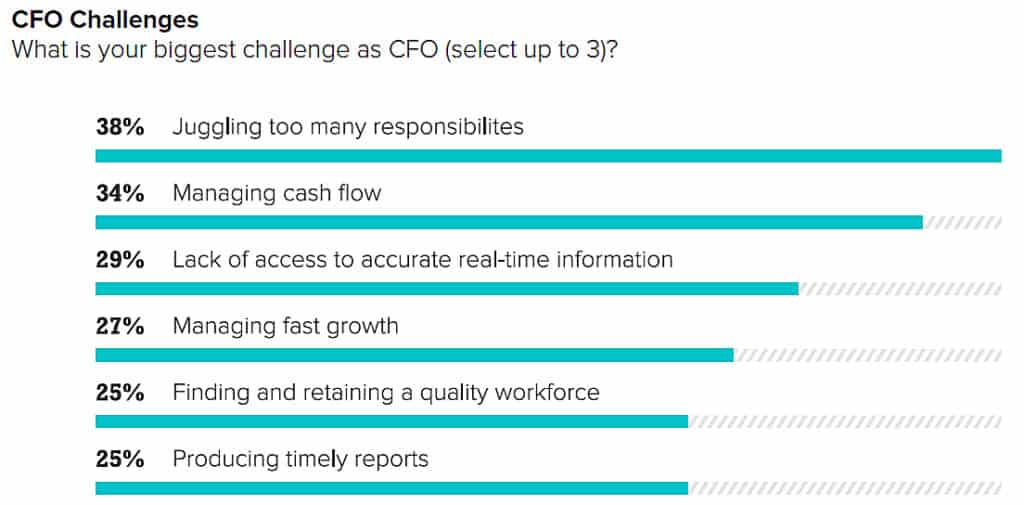 To ensure a balanced representation across the spectrum, 77% of participating CFOs worked for companies with less than 500 employees.
The findings of the survey are detailed in the white paper, State of the CFO Role. It offers insight into the strategic and operational challenges faced by the CFO and the finance function. It also discusses what technologies are seen as important, and more importantly, where the company's cash is being directed (you will be surprised here). Finally, it provides a review of the Key Performance Indicators (KPIs) or which CFOs are measured (or they benchmark themselves against) as well as the finance function as a department.
Finally, the paper offers an interesting conclusion on how the CFO and the finance team has evolved into to meet the challenges of the digital economy. A highly recommended read from the editorial team at FutureCFO.
Click here to download this Brainyard-Oracle NetSuite white paper, State of the CFO role.
You may also want to find out the secrets of The highly effective CFO and how to take finance into the future. This white paper examines the most common habits of highly effective CFOs and highlights the challenges and path to achieving organisational goals.