Asia Pacific is expected to have the highest hike once again when it comes to 2022 salary increase, said ECA International recently when releasing its latest Salary Trends Report.
The region is predicted to see an average 2022 salary increase of 1.9% in real terms, higher than any other region and the forecasted global average real salary increase of 0.9%, the firm pointed out.
Report highlights
Employees in Singapore can expect an average 2022 salary increase of 3.5%.
After factoring inflation, which looks set to remain around the same levels as this year at 1.5%, employees in Singapore will see a real salary increase of 2.0% on average — up from 1.2% this year.
Southeast Asia nations also amongst the top countries in Asia Pacific to see fastest rate of salary increase in 2022 – with Vietnam ranked first in Asia Pacific and globally.
Workers in China are predicted to see the second biggest salary increase in the region and third biggest globally next year in real terms at 4.0%, only surpassed by Vietnam.
Workers in Hong Kong will see their salaries increase at a faster rate in 2022 than in 2021, although not as fast as many other Asian nations.
Salaries are set to rise by 3.2% on average in 2022 and after factoring in the forecasted 2.1% inflation for next year, this means workers in Hong Kong will be left seeing a real salary increase of 1.1% — almost double the real salary increase of 0.6% that was seen this year.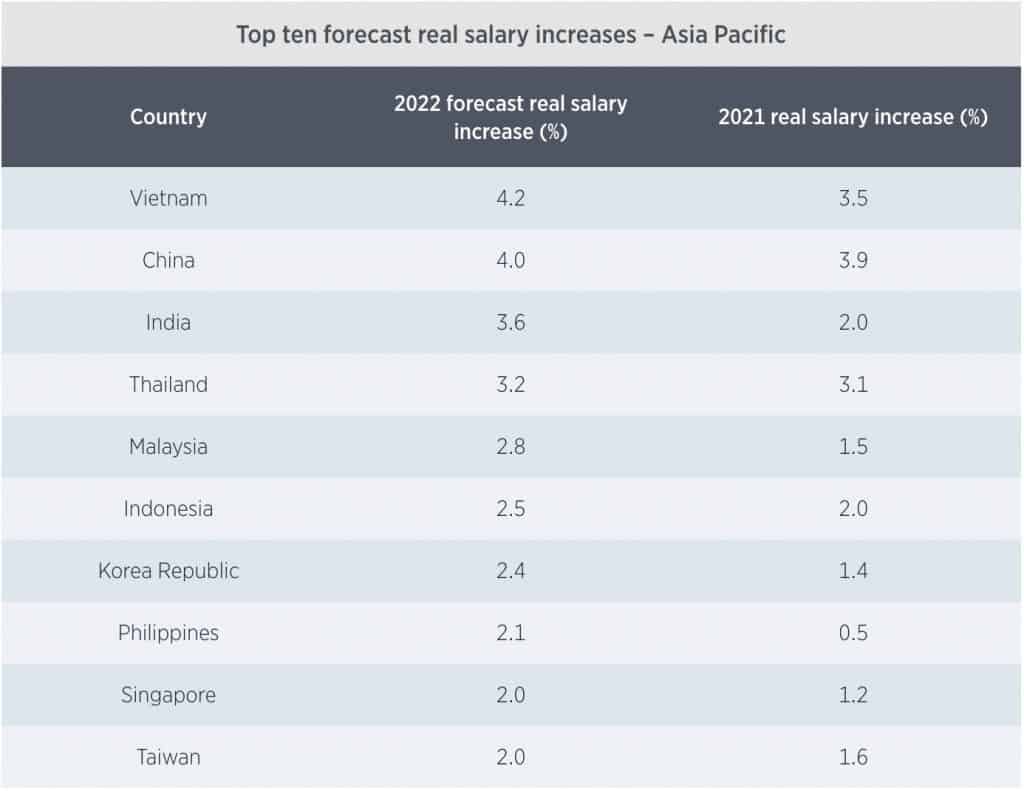 Although some regions, such as the Americas and Africa and the Middle East, have a higher nominal increase forecasted, the APAC region is predicted to have much lower levels of inflation in 2022, said Lee Quane, Regional Director – Asia at ECA International.
"This means that once inflation is taken into account, workers in APAC will see a much higher real salary increase than anywhere else in the world,"he noted.
Southeast Asian nations will be amongst those countries expected to see the fastest rate of salary increase in 2022 versus 2021 as their economies recover, ECA observed.
This includes Indonesia, Vietnam, Thailand and Malaysia as their economies begin to recover from the effects of the Covid-19 pandemic and international travel resumes, the firm added.
Indonesia and Malaysia were among the countries most impacted by the pandemic and are expected to see some of the biggest jumps in rates of salary growth in Asia Pacific in 2022 compared to 2021, as their respective economies start to return to normality after the pandemic, Quane said.
If these countries are able to keep inflation under control in 2022, the improved economic outlook will mean that real salary increase rates for workers in these countries will be some of the highest in the region, he predicted.