Singapore is ranked second in Global Talent Competitiveness Index while the city-state together with Switzerland and the US continue their strong lead in talent competitiveness, said INSEAD recently.
European countries dominating the top positions with 17 of them in the top 25 in the 2021 Global Talent Competitiveness Index (GTCI) report published by INSEAD and the Portulans Institute.
Outstanding non-European countries that make it into the top 25 are Australia (11th), Canada (13th), New Zealand (15th), Japan (20th), Israel (21st), and the United Arab Emirates (25th) while China (37th) breaks into the top 40, its highest position ever, the organisation said.
Global Talent Competitiveness Index (GTCI) 2021 – Top 20 Ranking
As in previous years, higher rankings are associated with higher income levels, INSEAD pointed out.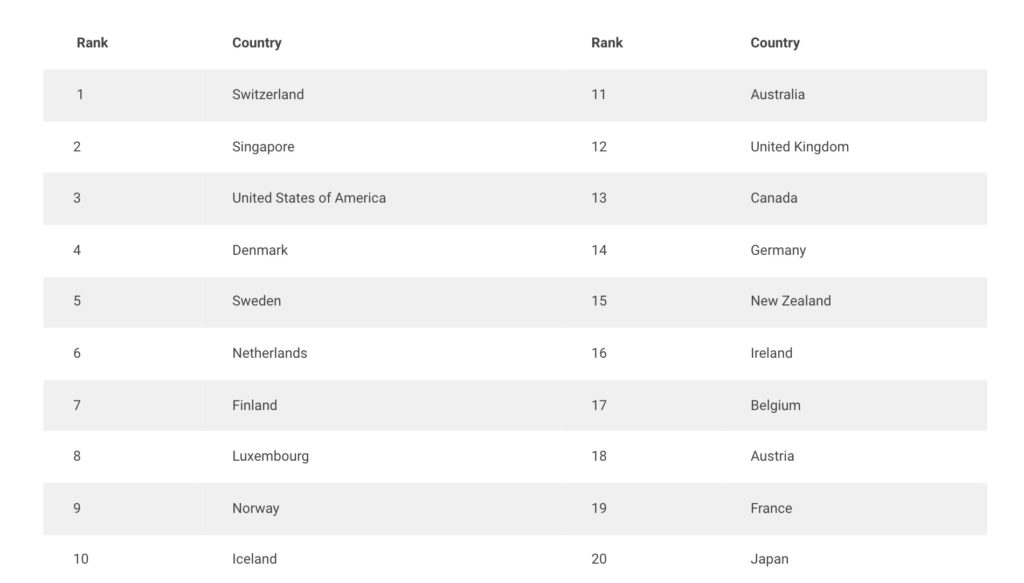 Policies and practices that bring about talent competitiveness in more developed countries are less susceptible to political and socioeconomic fluctuations and these countries have the stability to invest in lifelong learning, reinforcing skills, and attracting and retaining global talent, INSEAD added.
Highlights
The pandemic has shaken organisations in ways that may become permanent features of tomorrow's workplace.
The accelerated adoption of collaborative tools have redefined the way in which individuals and teams could bring value to private businesses and public entities. Companies has redefined how they work. In that process, many opportunities have been offered to countries and cities to experiment with novel ways of attracting talent such as digital nomads.
COVID-19 generated a series of shockwaves across the global talent landscape, which will have long term effects on labour markets.
The international mobility of talents has been redefined by the pandemic. For employees, new parameters emerged about when, where and for whom to work: as online tools opened new doors to better work-life balance and to 'working from anywhere', new inequalities surfaced between those who could contribute online, and those who had to be physically present at the workplace. 
Governments are back on centre stage, and recovery packages will have a significant importance in shaping labour markets and talent competition in the coming years.  
Governments are called to re-take centre stage, both by injecting financial resources to prevent a massive collapse of businesses and employment, and by designing specific legal and regulatory measures to protect their populations' health and social cohesion. Most public entities around the world reacted with rapidity and force. This allowed many companies to stay afloat financially, and to stay the course towards their strategic objectives, including in the talent area. The relatively rapid fashion in which major economies resumed growth is now even creating some employment scarcity in key sectors and activities.