Five Asia Pacific economies—Singapore, South Korea, Hong Kong, China, and Japan—have made it to the world's top 20 most innovative in 2019, according to INSEAD.
Globally, Switzerland is the world's most-innovative country followed by Sweden, the US, the Netherlands, and the UK, while regional leaders India, South Africa, Chile, Israel and Singapore, with China, Viet Nam and Rwanda topping their income groups.
Released jointly by INSEAD, World Intellectual Property Organization (WIPO), Cornell University and the 2019 GII Knowledge Partners, the Global Innovation Index (GII) 2019 ranks 129 economies based on 80 indicators, from traditional measurements like research and development investments and international patent and trademark applications to newer indicators including mobile-phone app creation and high-tech exports, said the business school.
Asia: Innovation continues to blossom despite slowing economy
The GII 2019 also looks at the economic context, INSEAD noted.
Despite signs of slowing economic growth, innovation continues to blossom, particularly in Asia, but pressures are looming from trade disruptions and protectionism, ISEAD said, adding that sound government planning for innovation is critical for success, the report shows.
"The GII shows us that countries that prioritize innovation in their policies have seen significant increases in their rankings," said WIPO Director General Francis Gurry. "The rise in the GII by economic powerhouses like China and India have transformed the geography of innovation and this reflects deliberate policy action to promote innovation," said WIPO Director General Francis Gurry.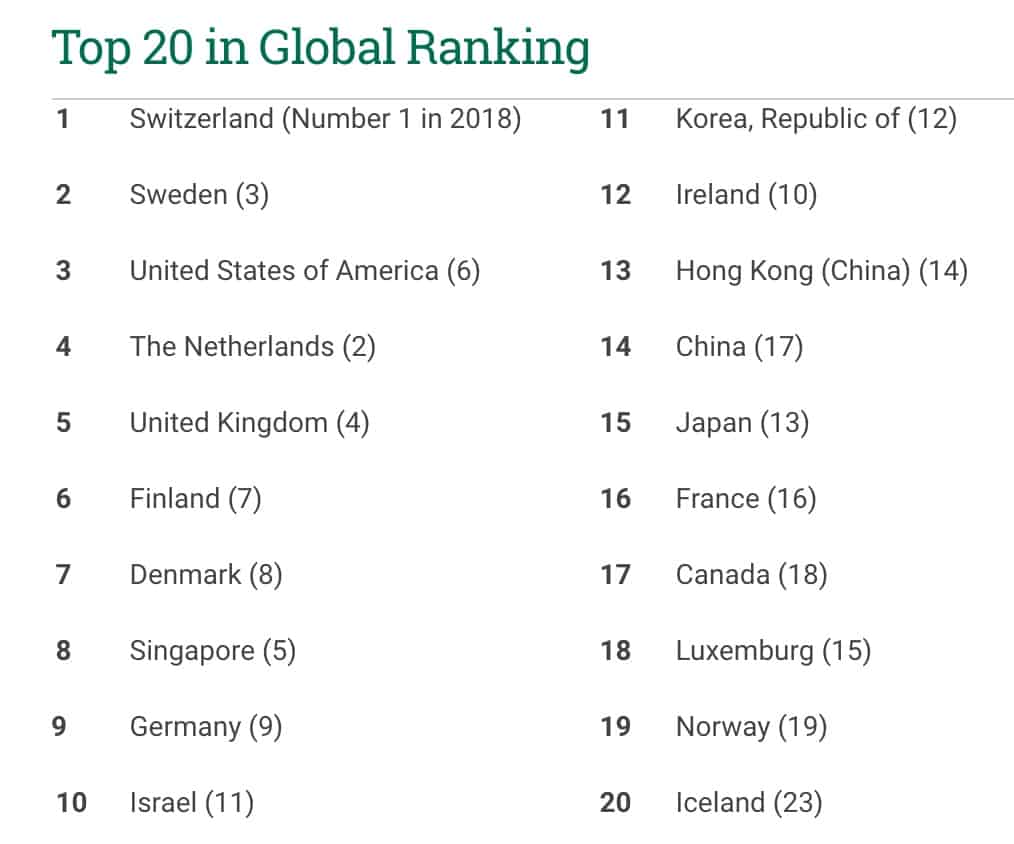 GII 2019 key findings
The global landscape of science, innovation, and technology has undergone important shifts over the last decades. Middle-income economies, especially in Asia, are increasingly contributing to global research and development (R&D) and international patenting rates via WIPO's International Patent System
Public R&D expenditures—particularly in some high-income economies—are growing slowly or not at all.  This raises concerns given the public sector's central role in funding basic R&D and blue-sky research, which are key to future innovations.
Increased protectionism poses risks. If left uncontained, it will lead to a slowdown of growth in innovation productivity and diffusion across the globe.
Innovation inputs and outputs are still concentrated in very few economies. Divides also persist in how effectively economies obtain return on their innovation investments. Some economies achieve more with less.
Most top science and technology clusters are in the US, China, and Germany, while Brazil, India, Iran, the Russian Federation, and Turkey also feature in the top 100 list. The top five clusters: Tokyo-Yokohama (Japan); Shenzhen-Hong Kong(China); Seoul (Republic of Korea); Beijing (China); San Jose-San Francisco (the US).