The emergence of hybrid workplace solutions has given rise to an increased need for automation and collaboration across the enterprise. No matter the department, sharing information faster and more efficiently is now vital to successful collaboration.
Rigid data silos have been replaced with more fluid methods of working as technology-enabled collaboration provides a comprehensive, company-wide, real-time overview for agility when plans change.
Australian footwear retailer
In the Office of Finance, reporting that relied on monthly or quarterly updates is now having to constantly adapt to shifting environments and changing conditions. Consider Accent Group, Australia's leader in retail and distribution of athletic and lifestyle footwear.
Growing from 20 to 420 stores in a short period, Accent Group could no longer rely solely on Excel for its budgeting, planning and forecasting needs. They required a solution to provide a single source of truth that would support the budgeting and planning process across the entire enterprise.
The first step was to assemble key components for the budget to start the fiscal year budgeting process, with 80% of the budget model completed within a month. Once the budget model was finalised, Accent Group developed a reforecasting model to build out their month-end reporting capability.
Now when a measurable change occurs, Finance can respond quickly and flexibly. Embarking on the digital transformation journey for any company provides that needed capacity for collaboration and cross-functional planning, resulting in more flexibility, agility, and resilience through automation.
Workforce automation in APAC
The APAC region alone is home to 60% of the world's workforce. Among all the APAC nations, Singapore was named one of the most readily able countries to embrace workforce automation in a recent Deloitte report.
This includes not only robotics but also other types of digitised processes. No matter the industry, automation has become prevalent throughout the business world. Even the field of accounting, once known for its stodgy spreadsheets and hand-written ledgers, has inched toward embracing innovation. 
According to a recent survey by the Institute of Singapore Chartered Accountants (ISCA), 89% of accountants in Singapore claimed the pandemic caused them to adapt to new ways of working and doing business, which included remote working, using videoconference technology and relying on virtual collaboration. As we move forward, digitalisation will continue to shape the modern workplace.
According to Gartner, two key trends are informing the digital workplace:
the way work is being distributed (remotely, asynchronous, through collaborative teams); and
Business-focused technology is a key driver for successful digital transformation.
The impact of digitalisation and automation
While these two terms are related, they do not mean the same thing. Digitalisation refers to processes and tasks that are performed digitally. Sending an e-mail, using a mobile app or online banking are all forms of digitised processes.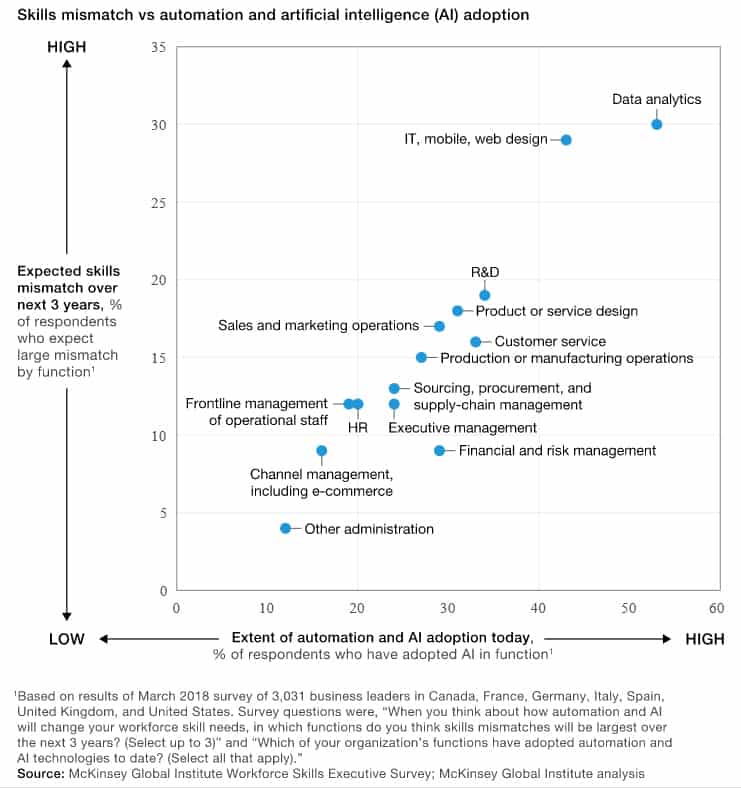 Automation, on the other hand, takes it a step further, referring to processes and tasks that are performed both autonomously and automatically without needing human support, such as an automatic monthly bank draft.
When implemented smartly, automation can support faster performance. In keeping with the bank example, an automatic draft saves you time by eliminating the need to stand in line at the bank. The same concept applies to workflow management.
To add value, the Office of Finance must understand the business drivers operating behind the scenes. It is not about becoming tech-dependent, but about leveraging its ability to accelerate processes with precision. With this knowledge, finance professionals can understand how modern forecasting, planning and budgeting can add value too.
By 2030, McKinsey predicts that automation and AI-based solutions will bring higher productivity, improved business performance, and a greater need for new skills in the workforce. To leverage the power of automation, it is worth considering a few key initiatives.
Align workers' skills and capabilities to harness the power of both humans and machines.
Identify places where automation makes the most sense.
Create a virtual whiteboard or a so-called "opportunity marketplace" which provides a virtual platform to match employees' existing skills and capabilities with the current needs of businesses. Advanced opportunity marketplaces leverage AI to improve the relevance of the information provided to workers, accelerating the transition to new growth industries.
Provide continuing education programs to build resilience and prevent resistance toward new technologies. Upskilling can create a bridge and a safety net as employees learn to adapt to ever-changing environments that require them to use new technologies.
Automation has enormous potential to create more value and free up resources, but only if the organisation carefully crafts a plan and successfully executes it. Below is a partial list of available automation technologies and their areas of application:
Cognitive agents: a virtual workforce that supports customers or employees, such as service centres.
Robotic process automation (RPA): automation of routine tasks such as data extraction and sweeping through existing user interfaces.
Machine Learning: the ability to identify patterns in data through supervised and unsupervised learning, using decision algorithms and other means.
Natural-language processing (NLP): a way of creating seamless interactions between humans and technologies in applications such as data-to-story translation.
Smart workflow: an approach to integrate tasks performed by groups of people and machines, such as month-end reporting processes.
Where to start with automation
Below are five identifiable areas to consider for process automation. Admittedly, some are more easily automated than others, so it's valuable to consider where it makes the most sense for your organisation.
Repetitive tasks, such as manual data entry, copy and paste input and clerical work, involve routine work that doesn't require any special knowledge, skills, or human interaction, but at the same time, is highly prone to error. Implementing automation aims to increase the accuracy and speed of routine work by leveraging rule-based automation. Autofill functions are an example.
Administrative tasks have a supportive function in core business operations. Administrative work may relate to compliance and documentation for various regulatory systems. Automation can relieve the burden of massive paperwork and regulatory compliance by digitising and introducing management for various types of documentation. Using electronic documents instead of paper-based ones is an example of this.
Departmental tasks, such as expense tracking and approval processes, ensure that the department runs smoothly, but the tasks don't directly influence the core business product. Automation can help reduce departmental tasks through low-code and no-code apps that handle processes that would otherwise involve hard-to-manage documents and spreadsheets sent over email. Monday.com, an open-source project management tool is an example.
Cross-enterprise tasks refer to various departments working together on tasks such as processing insurance claims or loan approval. Automation helps deliver end-to-end customer experiences with straightforward processing, while also enabling the integration of individual business operations from across an enterprise into a single collaborative process that can better meet customers' needs. An Enterprise Performance Management software solution is an example of this.
Expert tasks, such as consulting, typically cannot be automated because it relies on human interaction. Nonetheless, even here, automation can eliminate routine work and increase the efficiency of an expert's work by keeping track of important details and providing them with deeper insights and recommendations for action. Again, open-source platforms are a good example.
The Case of Starlight Foundation
Struggling with a reliance on Excel for planning and reporting, the Australian-based non-profit Starlight Children's Foundation needed to both support its Office of Finance and enable those outside the Finance function with unified data and more accurate planning.
Starlight decided to invest in an Enterprise Performance Management (EPM) solution that offered better functionality and scalability. They implemented a cloud-based solution to support their business analysis, board reporting, planning, budgeting, and forecasting.
The foundation's FP&A professional Anna Schell claims, "A modern planning solution is great for cross-functional relationships and collaboration." As a result of embracing this new technology, the foundation is now able to:
Consolidate financial data from SAP with planning information at a role-based level with easy access through the Cloud
Model detailed workforce planning and program costing without complex spreadsheets
Analyse 'what-if' scenarios based on the data
Obtain a comprehensive oversight of business financials and fundraising positions with seamless integration of multiple data sources
In addition, cost centres and program managers now have a simple overview of data they need when they need it with greater flexibility, which their previous solution lacked. With access to real-time insights, the non-profit now can make better business decisions.
A five-step approach to automation
Start with something small. Choose a project that is not at the mission-critical level. As you move along, every successful automated task supports increasing the level of automation.
Define your organisation's objectives. Include that technology which adds measurable value to your organisation.
Analyse the complexity of processes to be automated.
Determine how much budget is available for each automation project.
Assess the changes associated with automation efforts. Make sure your workforce is on board with it.
The digital workplace has emerged with stronger solutions than ever before. While not everything can or should be automated, the transition to automated systems where it makes the most sense provides not only heightened efficiency but also a way for employees to add even more value across the enterprise.