Editor's Note: For our Female Leadership in Finance Series, the first CFO we talked to was Singapore-based Angeline Chua (pictured below), CFO and COO ASEAN at IBM.
Not only is she excited about working with people from different cultures but she's also enthusiastic about travel.
Chua shared with Teresa Leung, FutureCFO's editor about how working outside Singapore has transformed herself, her top travel destinations, her career journey, and her passion about F&B.

FutureCFO: Can you share with me your finance career journey?

Angeline Chua (AC): I started my finance career journey since I joined IBM 18 years ago as a management trainee in the finance and operations department. Throughout these years, I rotated through 13 different finance and operations roles across the company covering responsibilities at various levels including country, region, global, and corporate headquarters. At IBM, I've always been in finance—only about nine months ago, I've also started to take up the additional responsibilities as the COO on top of the CFO role.

FutureCFO: When did you start to become interested in finance? Were you one of those kids who love numbers?
AC: My interest in finance began with my education. I pursued a business specialization in Singapore's Ngee Ann Polytechnics after secondary school. I was very interested in how businesses set up and run and during the study program I learnt the different aspects of strategy, economics, accounting, and marketing, as well as how all these come together to drive growth and profitability of a business.
Yes, I love numbers. Since young, I did extremely well in Math. That was why I continued to pursue a specialization in financial analysis after finishing my study in the Polytechnics.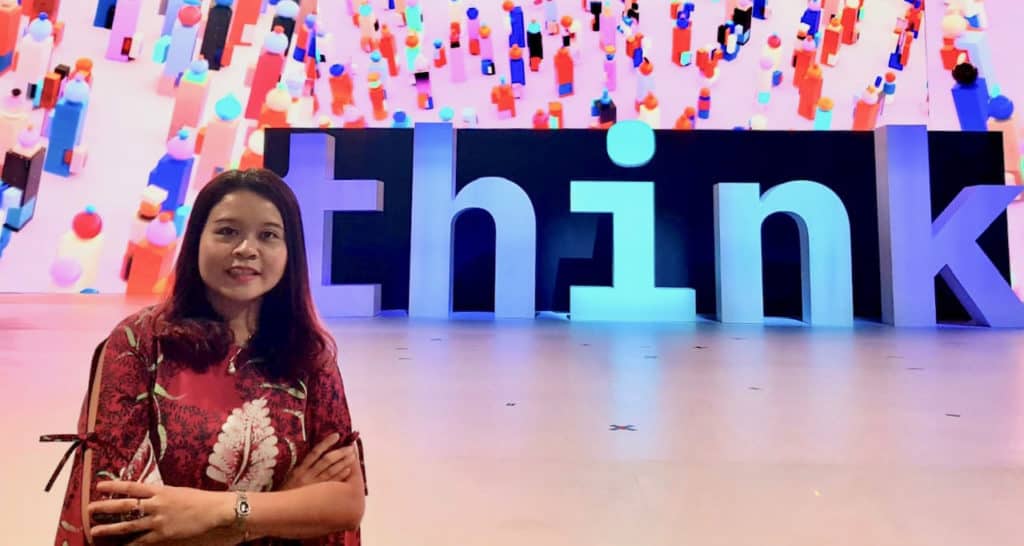 FutureCFO: What are your responsibilities as the ASEAN CFO and CFO?

AC: My responsibilities fall into five major areas.

Traditional finance: reporting, managing numbers, driving control posture.
Strategy: As the CFO at the C-suite table that drives the company's strategy, I'm also a strategist to the general manager whom I support.
Execution: I work closely with the bigger leadership to develop strategies that apply to the ASEAN region and execute them with other C-suite members.
Talent development: As the head of finance and operations, I make sure that we focus on develop talent for this organization.
The face to external parties: This is an area in which I personally take much interest. I spend a lot of time externally interacting with third parties, serving as a critical face of the company in front of customers, vendors, and banks working with IBM.
FutureCFO: What are some of the biggest challenges facing you as a CFO today?
AC: Finance transformation in the area of technology is the biggest challenge that I face today and this will continue in the next two to three years. Looking back at the past 18 years of my finance career, I worked with others to embark on various transformation journeys to drive improvements in processes, people, and tools.
But in the current data era, tools that companies need to adopt are technologies. Those who obviously lead in data analytics have a leading edge over their competitions.
I see that the current phase of transformation is challenging because we need to have talent with a hybrid sets of skills, which include the ability to see end-to-end. This requires strong business acumen and some level of technology skills.
While having what I call technical financial skills is still important, we need the above hybrid skills to drive the next wave of transformation for finance and operations.
FutureCFO: Do you find gender an issue in your career? Or is it an issue in the finance and accounting profession in general in Asia? Why or why not?
AC: No, this is not an issue at all in a company like IBM that promotes diversity. In Singapore where I grew up, I see equal opportunity based on one's performance and don't find gender an issue in the finance and accounting profession.
FutureCFO: While as you said gender isn't an issue in IBM and in Singapore, there're still more male CFOs than female ones. What's your advice to female finance & accounting professionals who aspire to become CFOs?
AC: Speaking from my own experience interacting with female colleagues, I've three pieces of advice for them.
Speak up, get heard. Female professionals have the tendency of hesitating to voice their opinions. It's okay to tell people "I want to go after this opportunity."
Be confident. Female professionals need to believe in their capabilities and take risk. There's a research showing that male executives will take up a challenge even when they feel they're only 30% ready but female execs tend to need to feel 90% ready to do the same.
Stick with the winners. This is what one of my mentors shared with me and I personally find this resonating in my career.
Think of the people who inspire you and surround yourself with passionate and positive people who are ambitious and have great ideas.
The positive influence from these people will help you become someone who can also be an inspiration to other professionals in the same field.
FutureCFO: You relocated to different cities such as Shanghai, Tokyo, and New York after year 2000. How did such experiences enrich you professionally?
AC: I lived in Shanghai for three years when I was the growth market controller. This was one of the few roles that allowed to me interact with "multiple continents". At that time, growth market was defined in IBM as Asia, Central & Eastern Europe, Middle East, and Latin America which covered some of the key continents.
It took me a few months to learn the cultural differences between these regions and the people coming from Africa, Germany, and Brazil with whom I worked, before I could effectively adapt my working style and drive integration and collaboration between those markets.
Female professionals have the tendency of hesitating to voice their opinions. It's okay to tell people "I want to go after this opportunity."
So my experience in Shanghai gave me cross-cultural understanding and the opportunity to become agile in adapting myself to drive the internal and external relationships I have to manage.
I was also posted to IBM's headquarters in New York as the executive assistant to the controller. For me, it was a development role in which I learnt what goes on in a big MNC like IBM, how investment decisions were made and how to manage external stakeholders, board of directors, and shareholders etc.
I also had the chance to build a strong internal network with people from the headquarters.
FutureCFO: Will you relocate to somewhere else again in the near future? If you had a choice, what'd be your next destination? Why?
AC: Yes, I will because I personally love to travel. If I had a choice, my next destination'd be Europe as I've never worked in the region though I worked with people from there before.
China is also where I want to work because I enjoyed living there when I was in Shanghai.
Being one of the biggest economies, the country offers tremendous opportunities. I speak Mandarin Chinese as a second language, which'd help me navigate those opportunities.
FutureCFO: What's your favourite destination for leisure travel? Why? Can you share something unforgettable about this travel destination?
AC: I've visited more than 40 countries. Out of my love of nature, my two top favourites are Alaska and Kenya. There are sites of icebergs and lovely mammals such as whales, bears to watch in Alaska where I also enjoy its serenity.
In Kenya, I camped out in the Masai Mara Safari in July a few years ago when I got the chance to watch one of the world's most thrilling and spectacular display of wildlife behaviour as well as the Great Migration. It's fantastic to watch how animals migrate year over year and across a big landscape in another continent.
FutureCFO: If you had a chance to make a career decision again, would finance still be your choice? Is there anything outside finance that you're passionate about ?
AC: I'd probably set up my own food & beverage business such as a cafe. As you recalled, I'm interested in how businesses set up and grow, but I've never had a chance to build my own business.
Starting from the age of 14, I worked at McDonalds for eight years on a part-time basis and gained experience in store operations, which included learning multiple things around the management of supply chain, quality control, crew management, marketing, branding, and promotions. I eventually became a floor manager of a branch and had learnt end-to-end branch management.
So if I had a chance, I'd like to combine my business knowledge and F&B store operations experience to set up my own business.