The cost of Asia Pacific healthcare benefit sponsored by employers are expected to rise by 7.6% on average in 2022, said Willis Towers Watson (WTW) when releasing results of a survey of medical insurers.
The projected Asia Pacific healthcare benefit costs declined in 2020 before rebounding to 7% in 2021, WTW pointed out .
Survey highlights
When comparing specific markets in Asia Pacific, insurers expect cost trends to be as high as 16.2% in Malaysia and 23.5% in India next year, while in China, Singapore and Vietnam, the increase are projected at 8.3% and 9% respectively according to the research.
Looking ahead, medical insurers expect healthcare cost trends to accelerate beyond 2022, with six in ten projecting higher or significantly higher costs over the next three years.
The leading driver of medical costs continues to be overuse of care (64%) due to medical professionals recommending too many services or overprescribing.
Excess of care by insured members (59%) is the second leading driver. The underuse of preventive services (38%) is also a significant cost driver and increased year-over-year due to, in part, the avoidance of medical care during the pandemic.
Insurers in APAC named cancer (76%), cardiovascular (62%) and musculoskeletal (48%) as the top three conditions by cost, identical to last year's findings.
They have also ranked musculoskeletal, and mental and behavioural disorders as two of the fastest growing conditions by cost they expect to see over the next 18 months.
Almost four in 10 insurers (35%) identified the addition of new wellbeing services as the biggest change organisations in APAC have made to their medical portfolios in 2021.
This is followed by telehealth services (26%), underscored by the potential for cost reductions that virtual healthcare creates. Half of the insurers now offer telehealth across select plans, with 92% offering these services at no additional cost.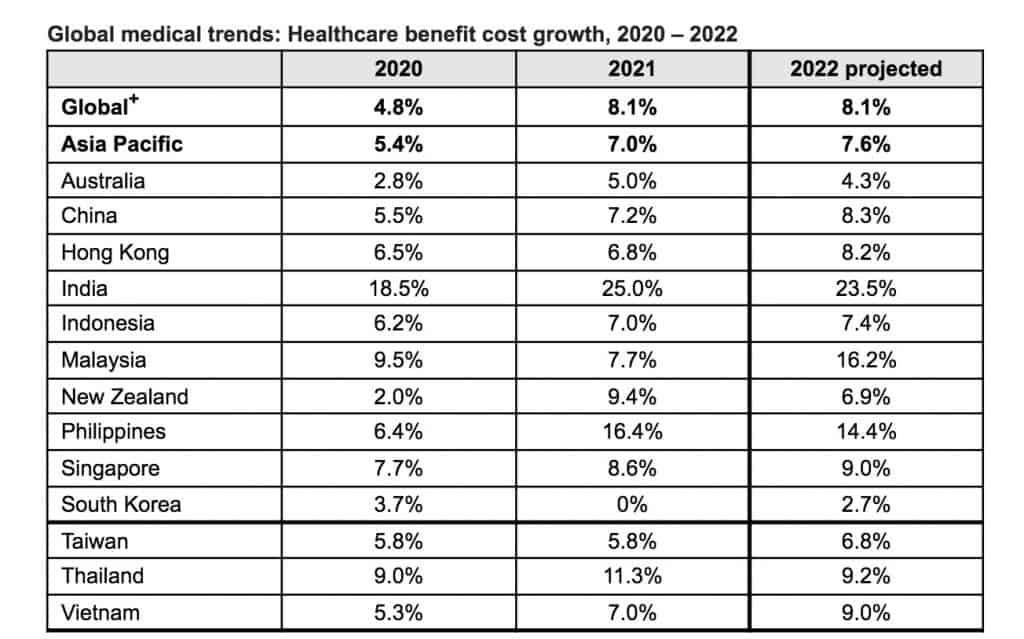 COVID-19 has produced the biggest impact to global medical trend variation the industry has seen, and we expect the resultant repercussions and volatility to extend into 2022 and beyond, said Cedric Luah, Head of Health and Benefits, International, Willis Towers Watson. 
"The pandemic, combined with the changing face of work, has had a significant effect on healthcare needs, delivery of services and the future drivers of medical claims, which in turn will have impact on medical inflation trends," Luah noted.
It is likely that the adoption of telehealth will continue post-pandemic, he said, adding that the role of telehealth will continue to evolve not only as a digital platform for ease of access to the right care but also as an effective way to close the gap in accessing healthcare services.
"We expect the scope of services provided by these health-tech to expand further into wellbeing offerings, including but not limited to mental health services, given the impact of COVID on emotional wellbeing of employees," Luah said.