More than 60% of respondents in mainland China and Malaysia said the traditional CFO role would not exist within the next 10 years, according to results of a survey of 1,100 members and contacts conducted by ACCA and PwC.
Globally, respondents split on the issue, with half of them believing the role will be gone and the half believing otherwise.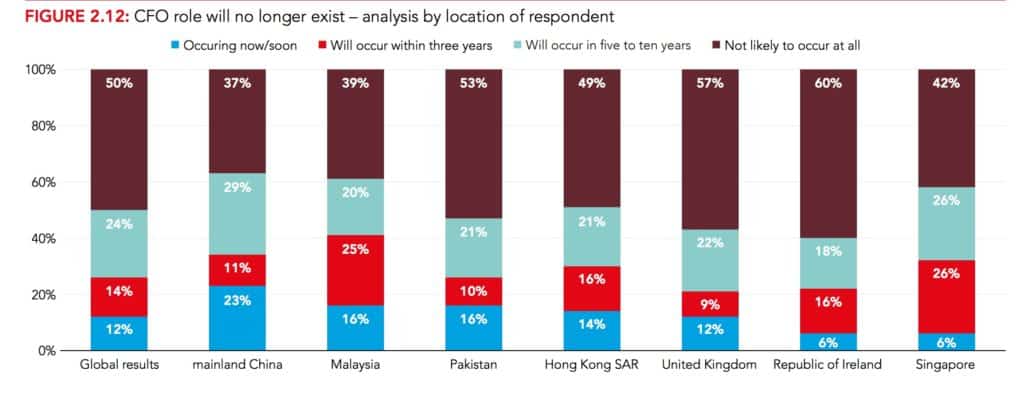 According to ACCA, respondents who think the traditional CFO role will be gone believe that it will be replaced by roles such as chief operating officer and chief strategy officer.
"The respondents were equally split on this," ACCA said. "Many agreed that the role of the CFO would evolve, yet opinions differed as to the extent."
While the finance function needs to evolve to remain relevant, there is the need to address the challenges of data, technology, process and skills, the accounting body added.
"What is paramount is that in this period of change there is a strong culture of leadership and innovation that matches the changing business environment and
puts the purpose of the finance function at the heart of its journey into the future," ACCA noted.
With the evolution of financial acumen across the organisation, the impact on the CFO as the strategic financial adviser to the board cannot be ignored, ACCA added
In addition, 22% of our respondents agreed that new roles and new skills were likely to be needed in the finance function soon.
There has been a growing realisation that the successful accountant of the future will have extensive interpersonal skills to complement their deep technical knowledge, ACCA pointed out.
Yet overall, 23% thought it would not really happen even in the longer term, survey results indicate.