Growing economic volatility will continue to add uncertainty to an already challenging and unpredictable global business environment as we head into 2023. Business leaders will be expected to focus on strategic initiatives that will help them navigate through future headwinds and position their organisations for long-term growth and competitive success.
It is against this backdrop that Chief Financial Officers (CFOs) are taking the spotlight as strategic business partners, alongside their Chief Executive Officer (CEO) peers. Given their oversight of critical financial and operational data, CFOs are well-positioned to make important decisions and inform the overall strategic direction of the business. Many will be expected to take on more responsibilities moving forward.
In the coming year, CFOs will be expected to focus on helping their companies build resilience – whether through critical decision-making backed by a real-time view of financial data, or ensuring competitive advantage with digital transformation and sustainability initiatives.
Steering companies through the economic volatility ahead

According to BlackLine's study, 68% of CFOs in Singapore believe they are responsible for the well-being of their organisation during an economic downturn, compared to their CEO. With recessionary fears on the rise, CFOs will be expected to devote much of their attention to steering the company through the economic downturn safely.
Doing more with less will be a key priority as companies pivot from growth to finding efficiencies. CFOs will be expected to re-evaluate corporate priorities and strategies. They will also need to look for new ways to optimise working capital and resources, backed by their understanding of market performance and impact on business outcomes, as well as an accurate overview of the organisation's working capital.
Crucial to doing so is understanding cash flow in real-time so that business leaders can make decisions with an up-to-date view of the company's liquidity.
The key? Choosing the right tools and technology, such as automation solutions, will help streamline processes, reduce costs, and increase the visibility of cash flow and financial data.
Stronger partnerships with CIOs to drive digital success
The same BlackLine study found that around 95% of F&A leaders in Singapore have and will continue to invest in digital transformation initiatives in response to the economic uncertainty ahead. This suggests that achieving digital success will continue to remain a key priority for businesses.
We see business leaders cognizant of the benefits of integrating digital technologies into existing workflows, with many looking to improve operational efficiencies and deliver better customer experiences, to improve bottom lines and gain competitive advantage.
That said, finding success in digital initiatives is highly dependent on a strong partnership between the CFO and CIO. According to a Gartner study, companies with strong CFO-CIO relationships are 51% more likely to easily find funding for digital initiatives, 39% more likely to keep digital spending in line with budget plans and 18% more likely to achieve intended business outcomes.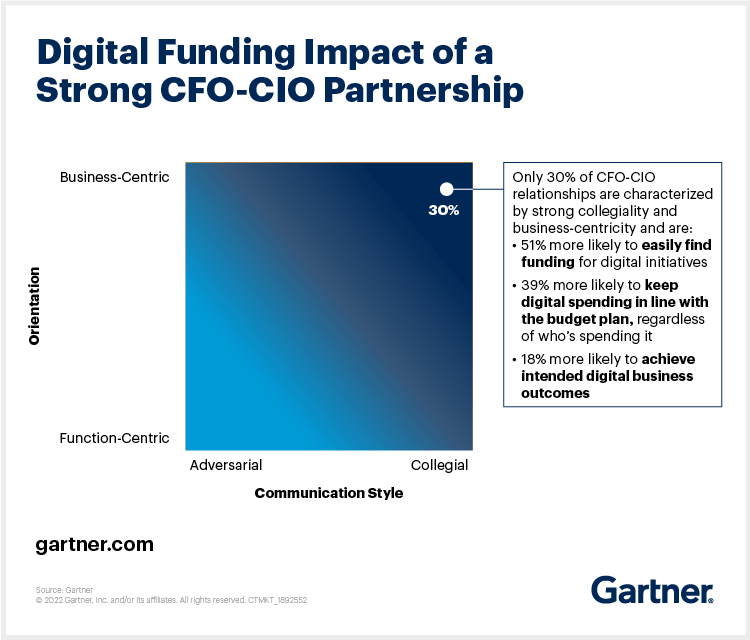 We can expect to see closer collaboration between CFOs and CIOs to find more efficient ways of working, solutions for optimising existing processes, and capacity to deliver on strategic initiatives like digital transformation in the coming year.
Driving sustainability reporting and accountability
The environmental, social and governance (ESG) megatrend is here to stay, and many forward-looking organisations are already taking action to build out their sustainability strategy. Companies can no longer afford to ignore the sustainability imperative now that competitive advantage is at risk.
In a report, Deloitte mentions that "CFOs are not only key stakeholders in a company's successful transition to a sustainable enterprise, but they are also predestined to take the lead". Given their oversight of necessary data, processes, and reports, as well as their background in risk assessment and mitigation, CFOs possess unique skill sets that enable them to take on sustainability strategy and reporting.
Moreover, CFOs' access to the C-suite and other important stakeholders, ensures that they can give ESG a permanent spot on the business agenda.
With 46% of CFOs in Singapore calling out compliance with ever-evolving ESG requirements as one of the biggest pain points for their finance function, we can expect that this will not be an easy task.
To successfully lobby for change within the organisation, CFOs will need to work closely with the leadership team, assemble a robust ESG working group, and partner with IT to maximise technology efficiencies.
The future business landscape may be rife with uncertainty, but one thing remains clear. CFOs are now taking on a more strategic role within the organisation and are taking the lead in preparing their organisations to manage shocks and capture opportunities ahead.