Deloitte has emerged as the world's largest auditing firm in FY2020, though KPMG hasn't announced revenues, which is usually the least among the Big 4.
Three of the four audit heavyweights — Deloitte, PwC, and EY have reported their revenues in FY 2020. Deloitte and PwC's revenues are usually the largest among the four and the two have continued this tradition so far in the said financial year.
Deloitte reported aggregate global revenue of US$47.6 billion for the fiscal year ending 31 May 2020 (FY2020), a 5.5% increase in local currency and 3.9% increase in US dollars.
The second largest in revenues, PwC announced global revenues of US$43 billion — up 3% in local currency and 1.4% in US dollars — for the 12 months ending 30 June 2020.

EY reported global revenues of US$37.2 billion for the financial year ended June 2020, an increase of 4.1% in local currency. The firm said it has recorded 7.7% compound annual growth over the past seven years.

In its full-year revenue report, Deloitte also announces its world climate strategy that sets out the firm's approach to achieve net-zero emissions by 2030.
Deloitte's revenue growth by service lines
Audit & Assurance: 2.6%.
Consulting: 7.1%
Financial Advisory: 3.0%
Risk Advisory: 5.6%
Tax & Legal: 6.5%
PwC's growth by service lines
Assurance: 3%
Advisory: 4%
Tax & Legal: 2%
EY's growth by service lines
Assurance: 3.1%
Advisory: 4.9%
Tax: 5.1%
Transaction Advisory Services: 2.8%
Deloitte's revenue breakdown by service lines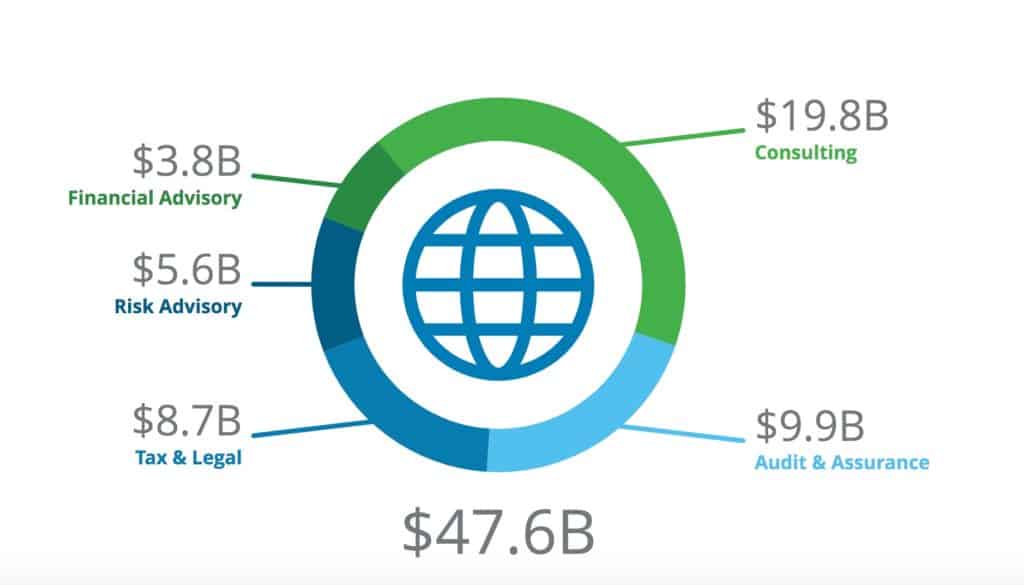 PwC's revenue breakdown by service lines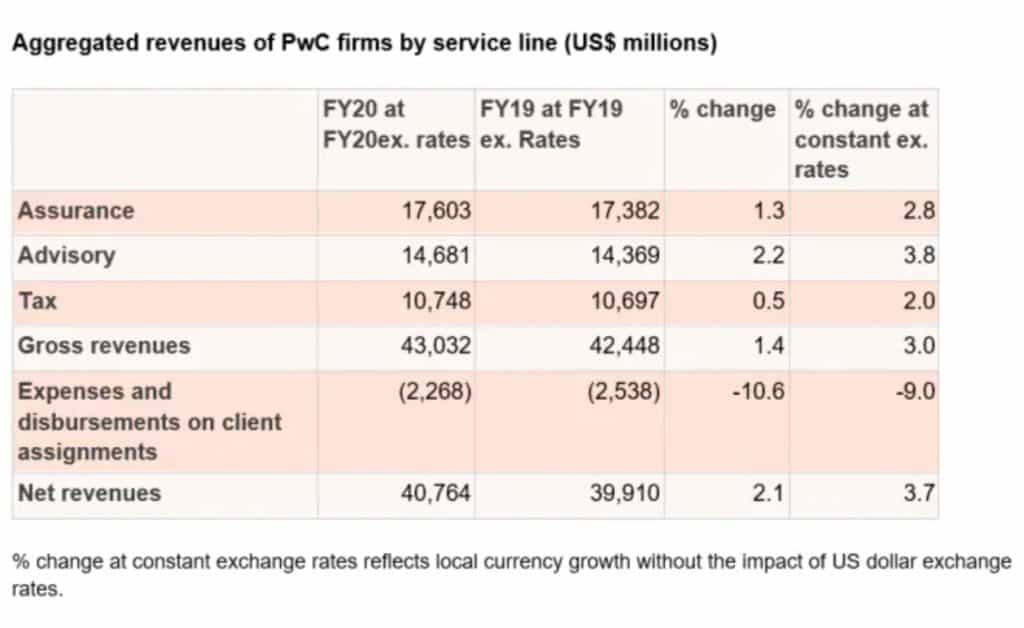 EY's revenue breakdown by service line