Shared services consolidate business operations that are used by multiple parts of the same organisation. In the finance function, basic accounting processes like accounts payable, payroll and purchasing are often allocated under the shared services model. This allows the organisation's core finance and accounting (F&A) operations to concentrate on more strategic work, such as financial analysis and planning.
"We do see more businesses using shared services capabilities in the finance function, as many are seeing that the consolidation of similar operations across the business translates to actual business benefits, including cost-savings for service delivery, improved data accuracy and transparency," said Nikhil Parambath, regional vice president, enterprise, Asia Pacific at BlackLine.
Nikhil Parambath

"Aside from that, businesses today also recognise that shared services create a solid foundation for growth, allowing them to easily integrate acquisitions into existing operations."

Nikhil Parambath
US-based BlackLine specialises in the delivery of cloud-based services designed to automate and control the entire financial close process. The company has a footprint in major business centres, including Tokyo, Singapore and Sydney in Asia Pacific, and it counts more than 4,000 customers globally.
Gearing up for next-gen finance
One company that has recently transformed its shared services functions is DFS Venture Singapore, a member of the DFS global network of luxury retailers located in 13 countries – selling upmarket brands across five categories: fashion & accessories, beauty & fragrances, watches & jewellery, wines & spirits, and food & gifts.
Spurred by its vision of NextGen Finance, DFS has been on a journey to transform its Global Finance Services – which consisted of the Procure to Pay team and Order to Cash team – in recent months. This transformation involves leveraging systems and re-engineering processes coupled with changing the way the teams work through upskilling and "re-culturing".
For this shared services project, DFS Venture Singapore identified key pain points across its finance function and saw opportunities in reducing multiple touchpoints and providing more end-to-end visibility in processes
"We embarked on a transformation journey as part of NextGen Finance, to resolve these key pain points," said Yew Cheong Khong, senior vice president & corporate controller at DFS Venture Singapore.
"The NextGen Finance concept aims to inspire and encourage team members to be highly trained professionals, as part of a competent team handling more than 10,000 transactions a month cutting across their functions in DFS globally," he added.
The company's finance teams also wanted to upskill themselves with deep working knowledge in various tools such as BlackLine, Concur, Coupa, Blue Prism (Robotic Process Automation Tool) as well as SAP ECC and EDI.
Clear communication is key
A project team of 60 people – collectively known as the Global Finance Services Team – steered the journey towards a transformed shared services function. They were met with challenges such as a lack of additional resources, getting buy-in from global stakeholders and fear of failure.
"Timely and clear communication was key. It is always a feat trying to move people out of their comfort zones and look for new perspectives in managing processes they are already familiar with. We encouraged this by learning to take feedback positively," said Khong.
The open line of communications was also extended to global stakeholders across DFS to update them on the change process.
"Clear and constant communication with stakeholders to send a clear message that change is necessary – paving the way for a smooth transition," said Khong.
Achieving desired outcomes
With a transformed shared services now in place, DFS is able to put more muscle into the transformation of its Global Finance Services.
For one, the finance teams of DFS have updated standard operating procedures and processes have been redesigned to remove duplicated effort and provide clarity on roles and responsibilities across teams.
"This resulted in greater efficiency and productivity, and greater collaboration with various stakeholders," said Khong.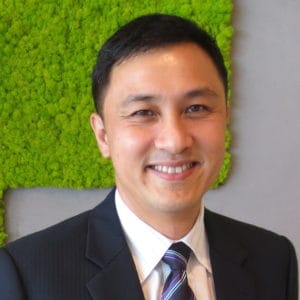 "Through the project, we have developed team members who are more confident and take pride in their work. Using out-of-the-box thinking, the team created innovative solutions that reduced lead time and allowed users to have access to self-help functions."

Yew Cheong Khong
For one, the Procure to Pay team developed a chatbot with the technology team to help answer some of the frequently asked questions that global stakeholders have.
"This freed up the time needed to attend to more value-adding activities, including spending time on qualitative analyses."
In terms of systems, robotic process automation was designed and developed to assist in repetitive and time-consuming tasks. An example of this will be the issuance of invoices based on billing requests. All it takes is for the requestor to raise a billing request in the self-help portal, and the invoice will be generated by the robot at the backend.
Upskilling opportunity and changing culture
The company's shared services transformation project also provided upskilling opportunities for the team, according to Khong.
"Many team members attended design thinking courses to help them gain knowledge on the subject. Their presentation skills were also put to the test by the sharing sessions they were tasked to organise. We also made use of the sharing sessions to acknowledge the efforts they have put in and encouraged them to drive continuous improvements."
Also, the project opened the window to "re-culturing". The introduction of "Golden Hour" gave the team allocated downtime to focus on daily tasks.
"As a team, we have moved closer to the vision of NextGen Finance. We now have a robust team who are eager to challenge as-is and make continuous improvements. The shift in mindset is a great win for the OneFinance team."

Yew Cheong Khong
Run shared services like a business
Meanwhile, Parambath of BlackLine advised companies to run shared services like a business to allay fears over work quality.
"Service quality should be always upheld with clearly set KPIs. That being said, how success is measured shouldn't solely be on operational measures. A balanced approach which measures both employee and customer satisfaction would be ideal," he said.
Parambath also noted that companies are expanding the usage of shared services, in terms of geographic footprint.
"Many enterprises had started out leveraging shared services for transactional finance activities for a single country or business unit, but increasingly, many are expanding their remit to regional operating centres and even global business services models."
He added: "On top of that, businesses are also adding new functions and processes under the shared services environment. Many are moving higher value, qualitative finance activities, on top of back-office functions, into the shared services model.
Key considerations when moving to shared services
APQC benchmarks suggest that a finance shared services model provides a platform to automate up to 90% of journal entries, reducing cycle time to five days for monthly close. But building a shared services function requires careful consideration from the CFO and finance team leaders.
Parambath believes that it starts with identifying the right people who can define the scope of work for shared services. He reminds us that shared services are a collaborative exercise amongst the key stakeholders.
He suggested organising a workshop format with key stakeholders given a seat at the table and can be heard. "The most impactful workshops not only include those at the leadership level, but also regional and functional representation," he explained.
He suggests two migration methodologies to help transition the workflow from the sending location to the receiving location: "lift and shift" involves taking the as-is process and tweaking to allow the activity to be part of shared services; "standardise and drop" where a process is standardised across all sending locations and dropping into the shared services centre afterwards.
DFS Venture Singapore (Pte) Limited is the recipient of the FutureCFO Excellence Awards 2023 in the category of Excellence in Shared Services. Click here to learn more about the awards.