Hexamatics Servcomm, an HR and business process service provider headquartered in Malaysia, decided at the onset of the current pandemic to automate its operational account and control (OAC) function, which has been crucial in reducing daily operation time by 50% to 60%.
According to the company's assistant finance manager Kausalyaa Somosundaram, the exercise was primarily aimed at allowing the company to track its bookkeeping – both accounts receivables (ARs) and accounts payables (APs) – from one place. Previously, Hexamatics inputted these two data sets in separate Excel sheets for the last 10 years.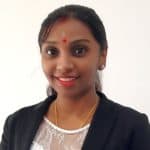 "What is very interesting about this app is the automation process. It has an automated approval process so that when I create an invoice, my manager automatically receives a notification that the invoice has been submitted," Somosundaram said. "Once he approves the invoice, then only can we download it and send it to our client which is a very important control system as it helps reduce mistakes and save time.
Automation is just the beginning
Aware that putting 10 years of transactions into its new ZOHO system is impossible given the immediate need to digitise the company's OAC function, Hexamatics made the crucial decision not to even attempt the time-consuming process.
Instead, only decided to only input transactions made in the last two years 2018 and 2019.
"We extracted the two years data then we started from there. We did not go for any training to save operation costs during the pandemic – I learned online and provided the training to my juniors. So basically, our team reviewed and corrected all the transactions, double entries, whatever important data payments, cash record, statutory obligations … everything. We went through every data one by one which took three months."
A process flow ensures control
But automation alone is not responsible for cutting in half the time the finance team spend on OAC tasks, said Somosundaram. It all boils down to putting in place standard operating procedures (SOPs) in the finance department so that various tasks are done on a schedule.
As a BPO business with a market presence in seven countries, Hexamatics' finance department has to handle different statutory contributions, compliance, corporate tax as well as payroll.
"Simultaneous with the automation, we come up with a process flow for our finance process. For each process, we create an SOP. For Account Payables, for instance, we created an SOP stating the date we are going to invoice the client, how will go through the approval process, what is the date, what is the obligations, in how many days you get to revise the invoice," said Somosundaram.
She added: "Each process is very detailed, and we communicate it not only to the finance team but to the whole Hexa business group in all the regions. When a date has been set for creating Payment in Request (PIR), all six countries in the group will create it and send it over for approval on the same day."
Without this SOP, control could be messy even with automation. And Hexamatics has been very strict on upholding its set pattern to ensure that no task – particularly tax filing and statutory compliance due dates, which vary from country to country – is missed.
"We cannot just simply sit in front of our laptops doing bookkeeping every day. We want our team to focus on other things like financial analytic risk assessment to continuously upgrade their skills. So that is why there are specific dates to follow. This also means that if there is an emergency, we will not panic because we have time."
Lesson learned
Somosundaram stressed the importance of working as a family. This approach has proven helpful in ensuring harmonious operation, particularly in stressful conditions like the pandemic.
"It is important to create an environment conducive to bonding with your colleagues, be able and willing to help each other when needed," she added.
Advice
Somosundaram believes in the value of continuous learning and upgrading of skills. She noted that there are many new kinds of analytical software and applications.
She suggests understanding current trends in the market and to consider how these trends will help the company or finance team to improve.
"Explore and create opportunities for your staff as people are the biggest asset of a company," she concluded.
* Editor's note: