Editor's note: Alia Saleh (pictured), Finance Director (SEA and ME) at ISG, dreamt about becoming a performing artist and eventually found finance her stage. She shared with FutureCFO her career journey and how theatre inspires her work life in an interview for FutureCFO's Female Leadership in Finance series.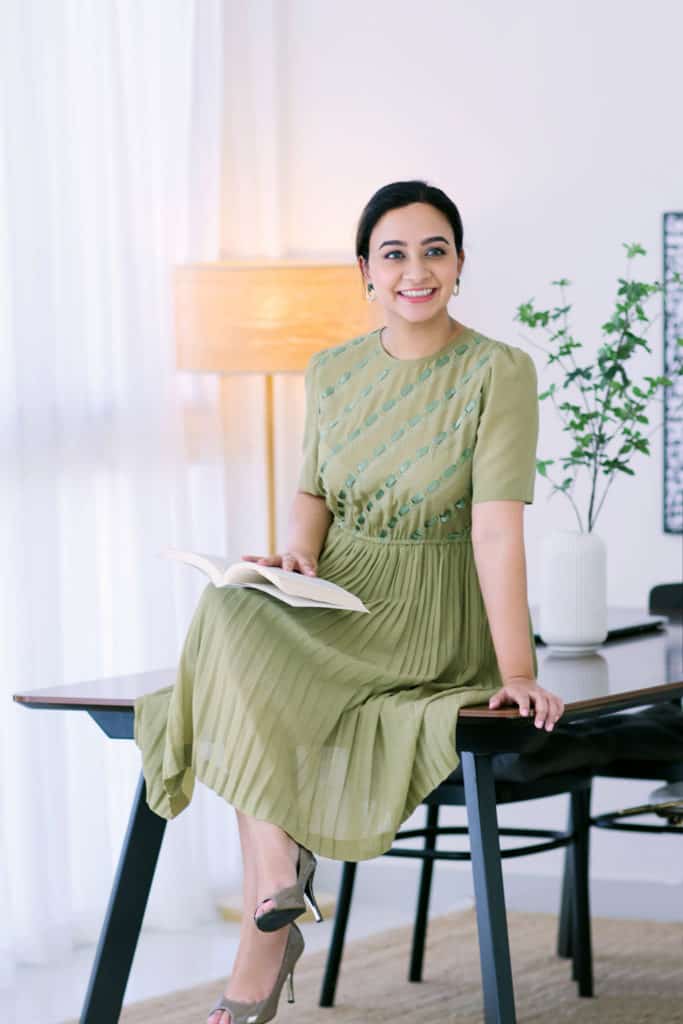 Future CFO: You are described as a born dreamer . How has your dream evolved in your career? When did you start to dream about a career in finance?
Alia Saleh (AS): I always aspired to be a performing artist and never thought that numbers were my forte. It was only after university graduation and working with Deloitte as a starry eyed, fresh faced, external auditor, did numbers seem appealing to me, beyond the algebra and trigonometry that I studied in school.
On stage, a story plot unravels through its characters. With numbers, we can convey meaningful stories of day-to-day tasks, events and activities that take place in companies.
In my corporate life, I peg a rationale to numbers and help companies discover the narratives of their business journeys through multi-faceted perspectives.
These numbers and rationales are important factors that influence decision makers and convert aspirations into tangible strategies. To me, this signifies the possibility of new beginnings and new frontiers — that is always exciting.
FutureCFO: There's a lot of discussions about business partnering between finance and IT. As the executive who steers both functions in ISG in two regions, can you share some advice on that?
AS: Finance and IT are intrinsically linked — they are the cornerstones of any business. Both function as guardians of business operations: they protect data, and ensure that it is accessible and reported accurately.
However, it is only when these departments are aware of business needs, do we see an alignment to business strategy; that is when the magic happens.
As an executive within a company, you need to make a conscious, concerted effort to ensure constant communication between all departments.
By keeping your ear close to the teams that are expanding and operating the business, you will discover numerous ideas and identify opportunities for either increased efficiency or business growth.
Therefore, it's important to make measured investments in both functions to attain your business goals.
FutureCFO: How do you find working with IT people different from working with finance folks? What are the biggest challenges facing you as a finance/IT leader today?
AS: We speak different languages. The key is breaking down objectives so that all departments in the company can comprehend.
The biggest challenge, is choosing from an array of fantastic systems that enable operational or growth objectives, while ensuring that they comply with evolving legal and tax requirements, that are jurisdiction specific.
There is no one size fits all. While too much customisation is a drain on resources – so, suffice to say, it's always a delicate balancing act between effective resource allocation and the ever growing list of business change requirements.
I strive to resonate with their spectrum of emotions. The theatre encourages empathy, collaboration and, at times, improvisation
FutureCFO: On the same profile page of yours on ISG, you mentioned that you never find gender an issue at work. But do you find there's a lack of empowerment for female executives in the two regions in which you work? Why or why not?
AS: Thankfully, I have not experienced gender discrimination so far in my career and experience. This may be attributed to my eagerness to share opinions irrespective of the audience.
In the regions within my purview, inroads have been made and there is representation. However, there will always be room for improvement, and sometimes modesty norms or traditionality hinders further progress.
Only with more opportunities and platforms for employees to voice their opinions, can a workforce empower executives from diverse backgrounds.
Outside of work, ACCA is fantastic example of a professional network that provides opportunities to promote inclusion and encourage empowerment.
Through the ACCA Singapore CSI group, we managed to bring Google's #IamRemarkable program to all members and affiliates in Singapore.
Even though it was virtual, the responses to sharing and celebrating success have been incredible.
Sometimes, all it takes are five minutes of your time to remind yourself of your accomplishments. Sharing the joy with a supportive group can also uplift and empower you to advocate for yourself in a professional or personal setting.
FutureCFO: You're involved in volunteer work to empower women. Can you share with me an example how your volunteer work has empowered women? Do you encourage your team to do the same?
AS: Everyone's empowerment journey is different. I would prefer not to speak on anyone's behalf. That said, I always encourage everyone to celebrate success, regardless of how big or small.
By constantly enabling my team and people that I've come across to proudly share their achievements, I believe I can empower any individual to build their confidence. This is also a personal goal of mine.
I firmly believe in learning by doing, which happens only if you step out of your comfort zone
FutureCFO: What's your advice to female finance & accounting professionals who aspire to become finance leaders?
AS: Be hungry for information and insight, as well as personal and professional growth; if you feel comfortable, seek opportunities for change.
I firmly believe in learning by doing, which happens only if you step out of your comfort zone.
My mentors always tell me to view every opportunity as a "what if" scenario. If you think you will regret passing up a chance, it is probably worth risking.
However, when seeking different opportunities, you need to remember to take time out and give yourself ample time to pause and reflect. This is a crucial step in the regeneration process of those brain cells.
Also, get involved with your professional community, whatever that might be. ACCA, being a globally recognised qualification, has a vibrant network worldwide, helps like-minded professionals willing to share their experiences to grow.
When I relocated from Dubai to Singapore, ACCA was instrumental in making me feel more at home in a new country.
Lastly, obtain an accountancy qualification that is as widely recognised as ACCA — it opens your door to exciting and rewarding careers all over the world, while providing you with opportunities to connect, progress and make an impact.
FutureCFO: You're involved in performing arts in local community theatres. When did you start to become interested in this?
AS: Growing up, I always performed in front of mirrors. That was where I was my most self-assured.
However, I yearned to express myself confidently in a public setting and I challenged myself by auditioning for a university play.
After two intense days of an audition workshop, I landed the role of a mother in Fedrico Garcia Lorca's Blood wedding. I was the youngest in the cast, playing the eldest role. It was nerve wracking, but it was such an adrenaline rush!
FutureCFO: What's your favourite play? Do you have any most unforgettable performance you've ever done? How does your interest in theatre inspire your career in general?
AS: While I do not have a favourite play, I feel inspired by the characters I perform.
I strive to resonate with their spectrum of emotions. The theatre encourages empathy, collaboration and, at times, improvisation.
To make your character believable, you have to understand the nuances of what makes them tick.
While interacting with other cast members both on and off stage, you have to respect their space, their cadence, and their process.
Most importantly, if something goes awry, which is almost inevitable, you have to work as a team, to convince the audience that it was intentional. I channel all of these facets (of theatre) that I've learnt into my day job.
FutureCFO: Your dream for the future: What do you want to do next — career-wise or anything?
AS: I want to be a chief officer who understands stakeholder requirements and guides the ship.
The title between the chief and officer is yet to be determined. For that, I will heavily rely on ACCA's career navigator, where possibilities are highlighted and avenues for further learning and skill augmentation are provided.
I find the guide useful in helping me plan my career journey and I am excited by the varied career paths that ACCA has to offer. My journey is not on a set path yet; let's see where life takes me.