With businesses and governments becoming more digital, this puts the onus on data centres, regardless of who owns or operates these, to provide the computing, data storage and connectivity resources to deliver on the promises of the digital, connected economy.
According to Knight Frank Research, the APAC data centres market saw growth of 24% in 2021 with an increase of 185MW of new capacity across the region in Q4 and 1.500GW for the year. As Singapore lift a two-year moratorium on building data centres and sustainability becomes an even greater issue for businesses, how will new data centre buildouts impact the environment?
Just as important, how can CFOs help address sustainability objectives as part of their overall ESG initiatives?
Nelson Lim, group CFO of ST Telemedia Global Data Centres (STT GDC), spoke to FutureCFO to elaborate on how STT GDC is addressing calls for greater emphasis on sustainability in the drive for growth.
Headquartered in Singapore, STT GDC provides scalable end-to-end data centres, solutions, support services, and cloud infrastructure solutions. With a collective portfolio of 170 data centres across nine markets, Lim believes that the quality of STT GDC's collective digital future really depends on access to data.
"Our ambition is to power a digital future that is sustainable, enabling our customers to realise their vision for a smarter and more sustainable digital future," he said.
The CFO's ESG footprint
Back in 2014, the Weinberg report, CSO Back Story II: The Evolution of the Chief Sustainability Officer, concluded that the growth and maturation of the chief sustainability officer (CSO) position signalled the elevation of the importance of social and environmental priorities and a fervent effort by businesses to create collectively beneficial outcomes.
It called into question the future of the role as the responsibilities and characteristics of this position change as the field matures. These days, at least in Asia, sustainability responsibilities appear to be more closely associated with a Chief Financial Officer (CFO).
Lim opined that with the level of scrutiny over 'non-financial' and 'financial' reporting on the rise, corporates need buy-in and support from the Board to push the sustainability agenda.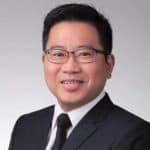 "With the oversight of treasury, finance, procurement and risk departments as well as the proximity to senior management and the Board, the CFO is well positioned to take the lead to become enablers for sustainability."

Nelson Lim
"A CFO can drive sustainability agenda in these four key areas: Sustainable Financing – incorporating "sustainability' metrics into fundraising, budgeting, sustainable procurement and risk reporting which is incorporating ESG metrics into risk management," said Lim.
Where to begin
Lim believes that if finance is to take responsibility for an organisation's ESG journey, there needs to be an understanding of what should be at the top of an ESG agenda.
"From ensuring regulatory compliance, addressing investors and analysts' demand for sustainability reporting and disclosures, adapting to consumers' buying preference towards 'green' or sustainable products, to hiring the right talent, there are many areas that can be the starting point," said Lim.
He added, that in addition, there is increased pressure from a variety of stakeholders for sustainability reporting which CFOs and their teams will need to manage.
The challenges of the CFO as a sustainability officer
According to Lim, one of the biggest challenges of anyone holding a sustainability portfolio is convincing stakeholders of the benefits of incorporating an ESG strategy as it may not necessarily result in immediate benefits.
"Companies who are looking at short-term returns will often be inclined not to invest in ESG," he opined. "Another challenge would be a lack of historical and comparable ESG data and how the ESG reporting standards are evolving. There are myriads of standards being introduced – the GRI, the EU taxonomy and it's important that CFOs stay close to auditors to understand what are the KPIs that likely to impact the ESG strategy," he cautioned.
Tools of the ESG trade
He concedes that technology can help to streamline and simplify the ESG reporting processes, providing a clear data view and establishing an audit trail that links to financial performance.
"In our case, we use technology to create the right database to measure efficiencies for power and water usage, and that forms the audit trail that a third party can audit and validate. We are also incorporating some of the ESG matrices to help us do our jobs more seamlessly and effectively," he revealed.
He advised that as a CFO, "you need to be clear what you're paying for and be clear in terms of what are the benefits that you are signing up for. Technology harnessed correctly, will always result in a higher return on investment."
The ESG balancing act at STT GDC
Lim acknowledged that is in a hyper-growth mode, entering new markets. "The challenge is how do you make sure that the ESG is still n the forefront of new market expansion," he called out.
"A few things that we do is to make sure that, from a procurement standpoint, we committed all our new data centres to be carbon neutral. Another key part of propelling your growth is having the right capital. For STT GDC we launched the Sustainably Linked Financing Framework to avail our financing to key stakeholders so that they can partake in our green movement. The framework allows us to procure green project financing and allows us to look at sustainability-linked bonds," he elaborated.
"At STT GDC, we recognise our role as an enabler of digital infrastructure across our global operations and we have formalised an ESG strategy that outlines our approach for accelerating our commitment to providing responsible digital infrastructure across all our existing data centre platforms, even as we expand to new geographies," Lim added.
He proudly declared that as a Group, 43% of the company's electricity consumption is already derived from zero-carbon renewable sources.
Click on the PodChat player and hear Lim elaborate on how CFOs can help manage ESG directives in the data centre.
Before we go into our topic proper, perhaps you can provide a quick introduction of ST Telemedia in the context of its GDC business.
How do you see the role of CFOs in driving the success of their company's ESG initiatives?
As CFOs address the issues around ESG, how should they prepare for this? Where should they start? What do they need to know?
Should companies integrate their ESG reporting with their financial reporting? How?
What are the challenges CFOs face in helping drive their company's ESG commitments and how can they resolve them?
How can technology help CFOs fulfil their expanded role where ESG is concerned?
I understand that STT GDC is planning to roll out a new data centre in Seoul. As STT GDC CFO, how do you balance the desires for growth versus ESG targets?