Pay and bonus as well as job security are still the most important factors in attracting and retaining employees, said WTW recently when releasing results of a survey of 5,900 employees from six markets in Asia Pacific including Australia, China, Hong Kong, India, Japan and Singapore .
In addition, flexible working and a sense of purpose are also important in a labour-tight market, the firm noted.
Survey highlights
Though only 28% of employees in APAC are looking for a new role, even those who plan to stay are open to offers. 
The number who are looking to leave their current employer is particularly high in markets such as Hong Kong (45%), Japan (43%) and Singapore (46%).
Besides pay and bonus, respondents also cite factors such as job security, flexible work, career advancement and opportunities to learning new skills as the other reasons for staying with their current employers. 
Having a sense of purpose has also appeared in the top five attraction factors and top three retention factors in the region.
Retirement and healthcare benefits also play an increasingly important role in employee decisions to stay or leave. I
n many markets in the region, the importance of health and retirement benefits as attraction and retention tools has reached a 10-year high.
85% of employees are more likely to remain with their organisations when their benefits package meets their needs. 
When asked to rank their top three benefits, retirement comes first or second across all six markets, reflecting their employees' concern for long-term financial security.
Employees are looking for new opportunities in Asia Pacific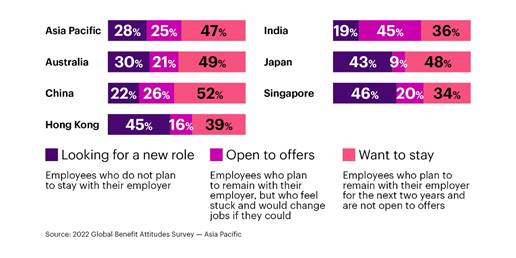 "Employees across different age groups, from baby boomers to Gen Z, in our study have indicated that a sense of purpose is an important factor that they look for in an employer," said Eva Liu, Head of Strategic Development, Health & Benefits, Asia and Australasia, WTW.
Increasingly, employees want to work for organisations and brands that have a clearly defined purpose and that they are aligned to, she added.
They also want to feel that people have equal opportunity to contribute their ideas and to see how their work connects to the bigger picture, Liu noted.
With ESG actions becoming an increasing integral part of businesses, organisations need to rethink and assess the 'S' agenda in their ESG commitments, she advised.