The more things change, the more they stay the same. At least when viewed in the context of women leaders. The Women in Leadership report by Wharton noted that women occupy a significant proportion of management roles but are scarce in executive and C-Suite roles.
According to Statista, women faired better at 15% in the CFOs function compared to CEO (3%) and COO (4%) in the aviation industry. Cold comfort, however, when you consider that women account for nearly half of the workforce.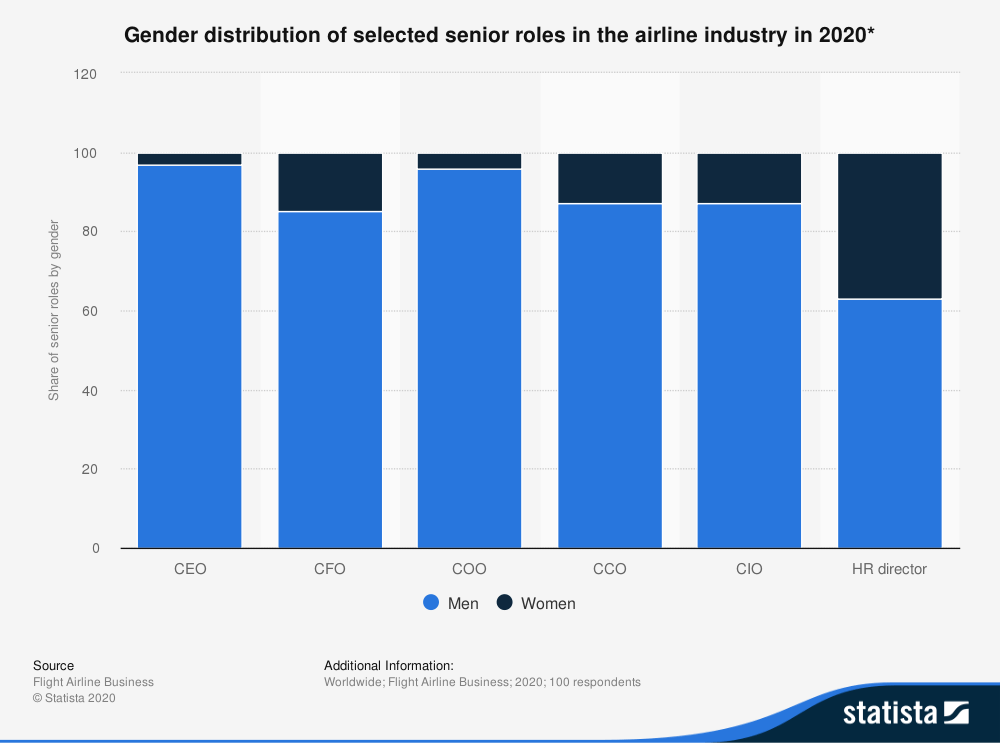 The IBM Institute for Business Value's second global study on women in leadership in the workplace reveals that organizations are losing their footing in the effort to achieve gender equality in the global workforce, spurred in part by the COVID-19 pandemic.
"The number of women in the leadership pipeline is shrinking, indicating gender inequality in leadership is going to get even worse. Fewer women hold senior vice president, vice president, director, and manager roles in 2021 than they did in 2019," commented Angeline Chua, CFO, IBM ASEAN.
What does that hold for the CFO and the finance function? FutureCFO spoke to two CFOs on how women finance professionals are coping with the changes brought about by the COVID-19 pandemic on their quest for recognition and job fulfilment.
At the end of it, it is still a man's world – at least at the C-suite level – for now. Asked what stance to take when entering a male-dominated profession, Sayaka Yamagata, chief financial officer of Growth Markets for Avanade, offered the following:
"Never short-change yourself and your strengths because of your gender. If you see an opportunity you feel strongly about – be it a promotion or a new job opening – be confident in putting yourself forward and seize that opportunity. Remember that confidence and competency go together: Confidence can lead to action and galvanize you to step out of your comfort zone and try new things."
How has the technology and digital transformation changed the role of women in finance leadership positions?
Angeline Chua: Women leaders in finance today face a period of disruption and change. Technology has certainly transformed the financial work for most companies. 80% of the data within an organization sits behind the organization's firewalls, finance plays an important role to drive insights behind the data from information systems. During this pandemic, we see the acceleration of digital transformation in most companies, with many financial leaders also looking at process re-engineering, intelligent automation.
"Women finance leaders are uniquely positioned to lead a broader organisational shift into digitization. They have insight into all business units and can help leaders from every area of the organisation understand the why of financial data, not just the what — ultimately leading to smarter business decisions throughout the enterprise."
Data will be the basis of competitive advantage going forward – it is "the next natural resource" as it will change how decisions are made, how value is created and how value is delivered. Data analytics will revolutionize decision-making where many financial decisions will be based on predictive elements versus gut instincts. With smarter automation taking over rote tasks and AI improving analytics, women finance leaders can become powerful strategic advisers.
Is the COVID-19 crisis diverting from the importance of recognizing and promoting women leaders in finance and transformation?
Angeline Chua: Women leaders in finance who are actively involved in the organisation strategy, understanding the importance of digitizing client experiences, and automating their back-end processes right now are going to be at the forefront in their industry innovation.
What qualities stand out when it comes to women finance leaders?
Sayaka Yamagata: Women finance leaders are more detail-oriented, an attribute which I am sure many of us would agree is crucial for anyone pursuing a career in financial services. Women finance leaders are also more empathetic and people-focused – qualities which I believe are crucial to driving employee engagement, to build strong teamwork, especially in remote and hybrid working environments, and to be able to help an organization review its financial performance/data from a people and impact perspective.
Angeline Chua: There are many qualities to stand out to be effective women leaders in finance roles, first, you must believe in what you are doing—to be confident and feel comfortable with the institution and its strategy. Next, you must give it your all, engaging completely in the mission you have set for yourself. And finally, you must care about your employees - making sure you hear them and understand their take on the issues, making sure that everyone feels part of the team and is drawing satisfaction from their work.
You need a certain kind of energy that makes you get up in the morning wanting to achieve something during the day. And you need the confidence to be able to stand up in front of your colleagues, your partners, and your staff.
What qualifications are needed to set one's path towards a leadership role in finance?
Angeline Chua: There is no single path to becoming a financial leader but the interplay of key personal traits and values, shaping moments in their journey, key relationships, and specific skills are vital to creating the total package essential to being a top-level in finance. The common traits and values including curiosity, courage, perseverance to mastery, self-assurance, and ethical responsibility.
In terms of skills sets that matters, the basic accounting and financial literacy skills, and hard "number crunching" skills are all necessary, but these functional competencies are not sufficient today to differentiate. The most salient skills are "soft skills" across a variety of domains. These are not skills learned easily in a classroom, but skills derived through the crucibles of experience and action — such as communications, leadership, analytical skills etc.
Break out of your comfort zone and learn from your challenges. In the age of automation, and on the near horizon, technologies like AI for example offer avenues for economic advancement and improvement of the finance function in the organisation, thus women leaders in finance must also need to transition into higher-skilled roles to weather this disruption. Aside from finance knowledge and business know-how, they also need to be skilled and tech-savvy to move forward.
Sayaka Yamagata: While there is no fixed formula for success in finance, having strong financial literacy augmented by finance-related academic qualifications - such as accounting, banking and finance, or economics - can give you a solid foundation to start your career.
However, being a leader would require you to demonstrate skills and knowledge that extend beyond financial expertise. For example, knowledge in business management or human resources can give you a more well-rounded perspective and shift your organization's financial focus to the employees. I believe that if we do the right thing for our people, they will do the right thing for our clients, leading to more business, revenue, and growth.
Additionally, skills such as communications will be an incredible asset throughout your finance career, especially when you are a leader. For example, by leveraging the tenets of good storytelling to convey financial information, we are equipping our stakeholders with the insights they need to make informed decisions.
What is that one leadership lesson you have learned in your career?
Sayaka Yamagata: One lesson that I have learned as a leader is that while you are in a position with a larger responsibility, you also have the privilege to make a genuine human impact on your team, the industry, and the ecosystem, as well as the communities we live in. As leaders, we need to bear in mind that we are role models to the people around us and our actions can have a ripple effect on the rest of our team – we must walk the talk by upholding our company values and by doing the right thing.
As a female executive, what has been the most significant barrier to women pursuing a leadership position in finance?
Sayaka Yamagata: One of the biggest barriers hindering women from pursuing a financial leadership position is that women often do not put themselves forward for a leadership role or a promotion. This could be attributed to various factors - including the lack of female leaders in similar positions in the industry, and the lack of confidence as they may think that they do not have all the requirements listed for the job/role.
What advice would you give to the next generation of female finance leaders?
Sayaka Yamagata: Inclusion! As leaders, you are often in a position to lead or facilitate meetings and discussions. You can create an environment where everyone is heard and feel safe enough to offer differing points of view. It is also about finding ways for everyone to participate – leveraging their unique skill sets and strengths that they bring to the team.