Finance leaders must navigate both big and small changes to protect employees' mental energy as the pace of change is wearing down members of their teams, said Gartner recently when releasing results of a survey with 499 finance and shared services employees in January 2020.
"When employees go through periods of heavy change, particularly as we are experiencing this year with COVID-19, it takes more effort to meet the same expectations for timelines, quality and quantity of work," said Tamara Shipley, vice president in the Gartner Finance practice. "Over time, excessive effort breaks down employees' mental energy, leading to change resistance and turnover."
Almost half (49%) of respondents reported low mental energy related to coping with changes, survey results indicate.
"Low mental energy means change fatigued employees who are half as likely to be committed to remain at the organization and three times more likely to resist change," said Shipley.

The importance of small changes
While many companies endorse change management, their efforts center on making big changes successful and big changes comprise only 4% of the changes that impact employees, Gartner noted.  
When it comes to smaller changes, only about a third of leaders perform key support activities for them, as shown in Figure 1 below, the research firm said.
The research showed that the biggest impact on employee mental energy could be gained by supporting employees through the effect of small changes, which make up 96% of the changes employees need to cope with, the firm added.
Gartner defines a big change as a sizable disruption such as M&A, a new job, an RPA implementation or major system upgrade.
According to the firm, it defines a small change as a lesser disruption that is typically handled on an individual or local level — for instance an incremental update to a tool, new expense submission requirements, or a co-worker leaves or joins the team.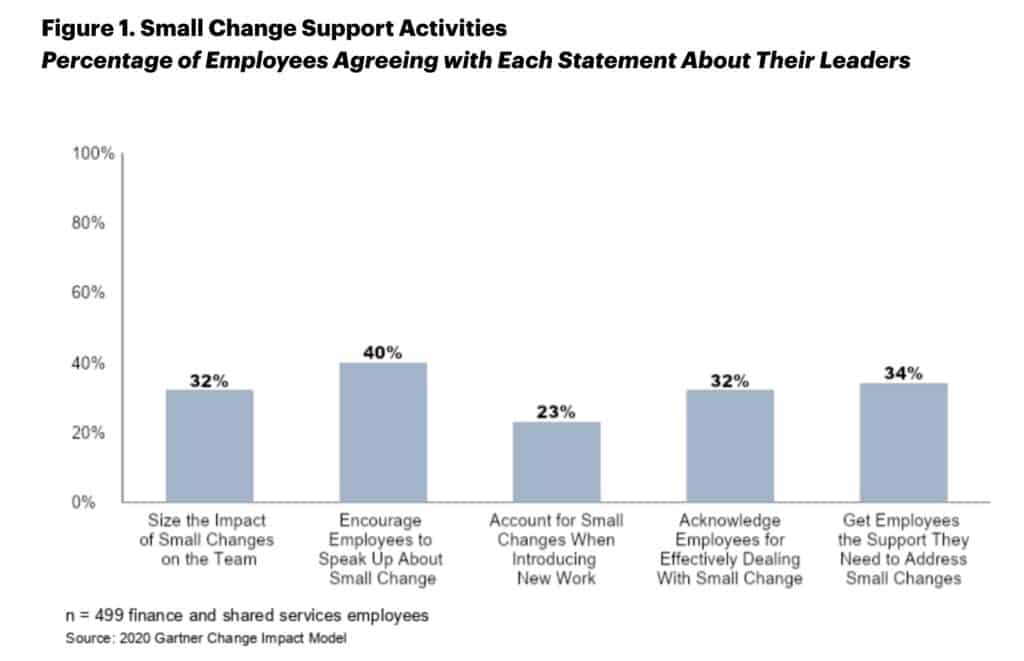 "Finance leaders generally do not understand the cumulative impact of many small changes on their employees until it's too late," Shipley pointed out. "Discovering low levels of employee mental energy after it's become entrenched is not the best time to remediate it."
What should employers do
Many leaders rely on formal annual employee surveys to monitor employee engagement, she said. 
However, this is too infrequent to properly gauge the impact of the many small changes and hurdles that employees face week to week, she added.
Managers need to carry out a weekly assessment of the impact of small changes on employees as one way to get ahead of and support their teams, Gartner suggested.
The study showed that a focus on supporting employees with the impact of small changes drove more than twice the gains in employee mental energy when compared to a focus on big change initiatives, the advisory firm said.
"Often managers do little to support small changes, and therefore some basic support can drive very noticeable improvements," Shipley said.
Finance and shared services leaders immediately take stock of the impact of small changes on their employees, particularly considering the disruption stemming from the COVID-19 pandemic, Gartner advised.
"There is much more leaders can do to ensure their employees get the support they need, and it starts with more timely awareness of the issue by leaders and their teams," Shipley said.