Japan is the number one location when it comes to expatriate packages, said ECA International recently when releasing its MyExpatriate Market Pay Survey .
Elsewhere, Australia and New Zealand both saw significant rises of eight and 16 positions in the global rankings to 7th and 13th place respectively, due to a variety of reasons including the strengthening of their currencies, increased benefits costs, and income tax changes in the past 12 months, the firm noted.
China remains the location with the third-highest expatriate packages in Asia.
While its position in the rankings remains unchanged, cash salaries paid to expatriate staff increased by over 11% in 2021 in USD terms compared to the year before, according to Lee Quane,  Regional Director – Asia at ECA International. 
"This was partly influenced by the relative strength of the Chinese Yuan, but may also be attributed to companies having to offer higher salaries in order to attract and retain expatriate staff, as China continued to impose its zero-Covid policy throughout the year," he said.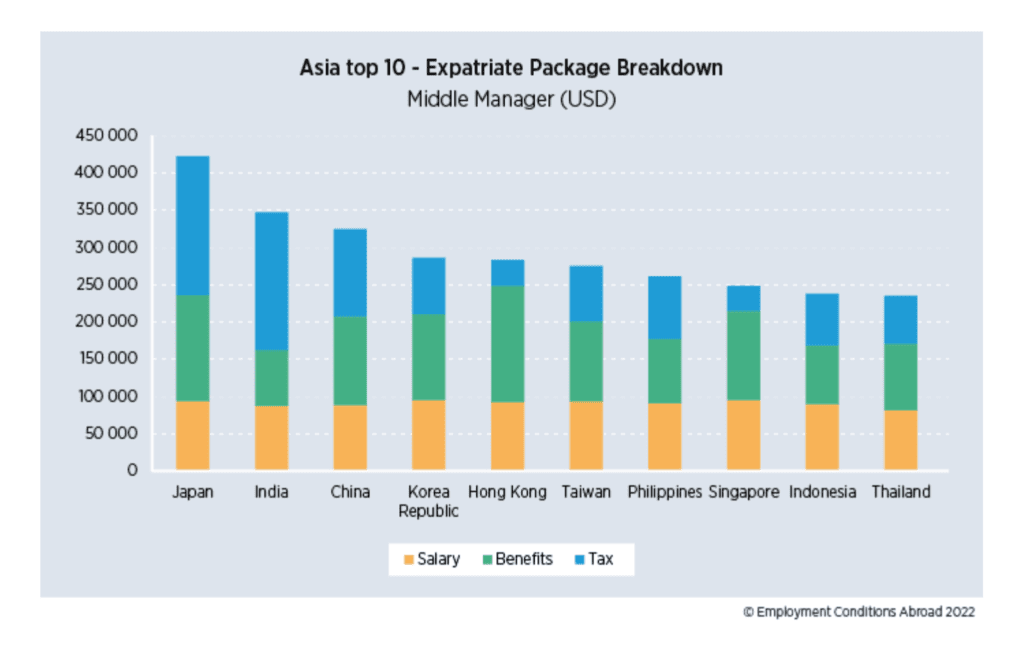 While expatriates in most other locations in the region saw their salaries rise at an average rate of 9% and overall packages by 10% in 2021, expatriate packages in Hong Kong saw much lower increases compared to the regional average, with salaries rising by 4.5% and overall packages rising by only 1%, ECA pointed out.
Expatriate salary and benefits packages in Singapore rose by a modest 4% in 2021 in local currency terms despite the city's fall to 22nd place in the rankings of the costliest places to employ expatriates globally, the firm said.
Many countries also joined Singapore and Hong Kong in falling down the rankings. These included Japan, Taiwan, Thailand, and Vietnam, according to ECA.
"While all locations in the region saw an increase in the pay packages for expatriate staff, many still fell in our rankings as their rates of growth were lower than those experienced elsewhere in the world, Quane said.
Japan, for example, saw the value of expatriate packages increase by 4% in 2021 but it's no longer the location with the highest expatriate packages worldwide, he added.
The top spot has been overtaken by the UK, where the overall value of an expatriate package rose by over 9% in USD terms, ECA observed.
Malaysia remains the location in Asia with the lowest expatriate salary and benefits packages, even though cash salaries rose by 11% in 2021, ECA said.
"Expatriates in Malaysia saw their cash compensation rise at a rate which was higher than the regional average," Quane said. "Despite this, Malaysia remains the location in the region with the lowest salary and benefits packages for expatriate staff."