When it comes to expat pay packages, Singapore is now the 17th most expensive location for companies sending employees overseas, said ECA International recently.
Now the average expat pay package for a mid-level worker costing companies US$225,171 annually in the city-state, the firm observed.
Globally, Japan overtakes the United Kingdom as the most expensive location to send workers to, with the average expatriate package there costing US$405,685, the firm noted.
"As we've seen in many locations across the world, expat pay packages in Singapore have taken a hit. This drop in pay packages is partly driven by lower costs of accommodation and other benefits commonly provided to white collar expatriates, but employees themselves are also taking home about US$1,000 less in cash salary than their peers in 2019, said Lee Quane, Regional Director – Asia at ECA International.
Asia highlights
Expat packages see overall decreases in Hong Kong and Malaysia, in light of falling accommodation costs.
Thailand sees biggest plunge in rankings, dropping out of the global top 20 most expensive locations to hire expatriate employees.
Taiwan bucks the trend, moving into the top ten most expensive locations globally, as rising housing prices inflate benefit packages.
Expatriate pay packages in Hong Kong dropped by more than US$5,000 over the last year, to a new average total of US$279,399. This was in spite of a slight average salary increase of US$265.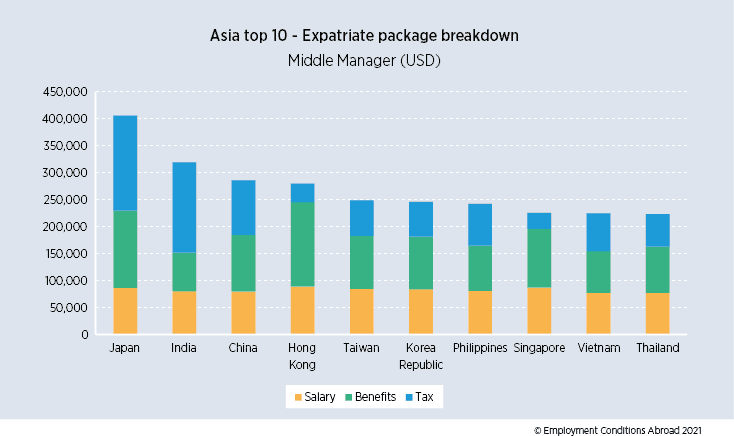 "The cost of employing an expatriate in Hong Kong was lower in 2020 than in previous years, but this was indicative of a much larger global trend we saw in many countries across the world," Quane said.
While salaries for expatriates in Hong Kong rose by less than 1%, employers were able to benefit from lower accommodation costs, and reduce the amount of financial support provided for housing compared to previous year, he added.
Elsewhere, Malaysia also saw a similar trend to many other nations in the world, with the cost of the average expatriate pay package falling by US$ 2,813 in 2020 compared to the year before, ECA pointed out.
"The average mid-level expatriate in Malaysia saw a salary of US$ 71,025 in 2020, which is slightly less than the previous year," Quane said. "The cost of benefits fell by a much more significant US$1,952 on average, as rents dropped amid a lack of demand for expatriate accommodation, which had been brought on by the Covid-19 pandemic and restrictions on international travel."
Meanwhile, one of the largest drops in expatriate pay packages was seen in Thailand, where the average value of a pay and benefits package for overseas employees fell by just under US$18,000, ECA noted.
"Thailand has dropped eight places in our rankings, and is now outside the top 20 most expensive locations to employ expatriate staff," Quane observed. "We saw a big drop in the value of expatriate packages in Thailand in 2020, with salaries dropping by USD 3,462 on average and benefit costs falling by over USD 8,500, making it significantly cheaper for a company to employ a mid-level expatriate employee in the current market."
When it comes to Taiwan, the economy enters the global top ten most expensive locations to employ expatriates for the first time as the overall cost of expatriate packages rose in the market, according to ECA.
The cost of employing a mid-level expatriate in Taiwan increased by US$10,733 last year as all aspects of expatriate pay packages rose, the firm said.
The most significant rise was seen in benefits costs, which surged by US$6,500 on average off the back of a steep rise in rents in the local housing market—a result of Taiwan's initial success in mitigating the transmission of the Covid-19 virus, the firm pointed out.
In addition, cash salaries rose by just over 1%, which, despite not being a high rate of increase, was still higher than comparable locations in the region, ECA added.
"Consequently, Taiwan has leapfrogged nations such as South Korea and Australia in our rankings, and is now the tenth most expensive location to employ expatriate staff," said Quane.