TMF Group is a global provider of critical compliance and administrative services, with some 7,800 in-house experts across 80-plus jurisdictions.
New report Accounting & tax: the global and local complexities holding multinationals to account analyses and ranks 77 jurisdictions based on the complexity of their accounting and tax laws and practices.
China and Vietnam are in the global top 10 – in 6th and 7th place respectively while regionally, they're ranked most complex. At the other end of the spectrum, Hong Kong in 73rd place is considered the simplest jurisdiction in Asia Pacific, followed by Australia (69th) and Singapore (68th).
The Accounting & Tax report further explores the findings of the Global Business Complexity Index (GBCI) 2020, delving deeper into the nuances of accounting and tax laws and practices.
Of note for APAC CFOs are findings including:
Mandatory electronic transaction reporting in just 15% of jurisdictions regionally, despite COVID-19 swiftly advancing e-filing and e-reporting technology.
Governments taking a more flexible approach to tax audits and filing: APAC companies can extend tax/statutory filing deadlines in 50% of places and 43% allow firms to postpone the start of a tax audit.
Local GAAP is much more common than international standards such as IFRS, with 71% of APAC jurisdictions taking the more localised approach.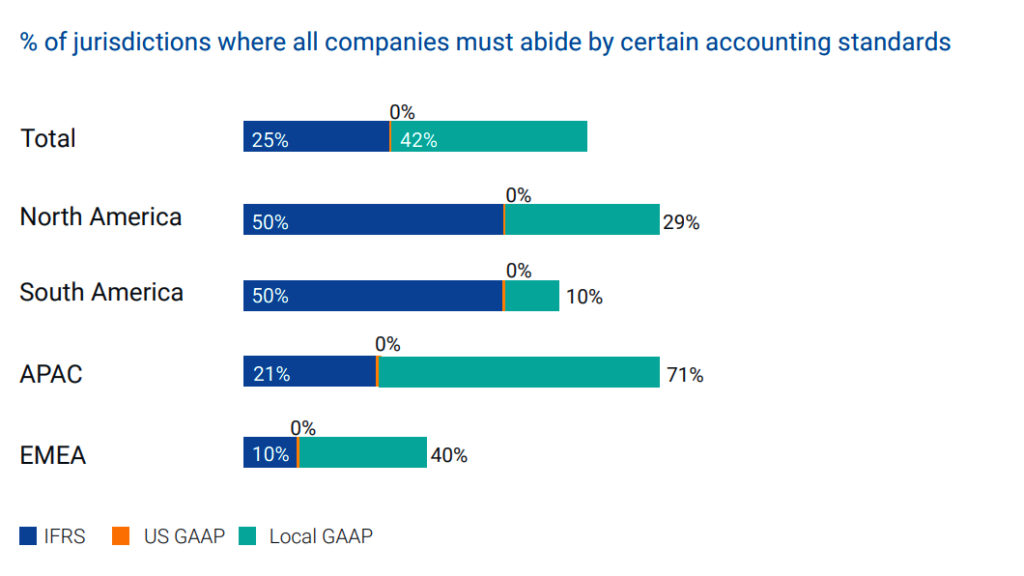 The report identifies three key themes in recent global trends:
Internationalisation versus localism with global standardisation harmonising some accounting and tax practices, while local complexities persist – and are even increasing – in some jurisdictions.
Modernisation versus tradition as global trends are based around a drive towards modern practices, whereas local considerations often reflect traditional modes of operation.
Technology's role in fostering a globalised business environment and how this is being deployed and used for accounting and tax reporting around the world.
It also reflects on where to next, with many tax authorities shifting focus from sanctions to more of a 'partnership' relationship with businesses. Digital services taxes will soon become the norm rather than the exception as adoption increases, and COVID-19 is acting as a catalyst for accounting and tax simplification.
Click on the link to download your copy of Accounting & tax: the global and local complexities holding multinationals to account and get a deeper understanding of the financial compliance challenges facing cross-border businesses.