CFOs plan budget changes and sales functions are likely to get more resources in 2023, said Gartner recently.
According to a Gartner survey of nearly 300 CFOs in November 2022, 73% of CFOs indicated that they planned increases for the sales function while nearly half of them said the increase would e 10% or more.
In addition, two-thirds of CFOs plan an increase for corporate IT, with 29% planning to increase by 10% or more.
Supply chain is the third most likely area to see increases with 61% of CFOs, although the increases tend to be more moderate.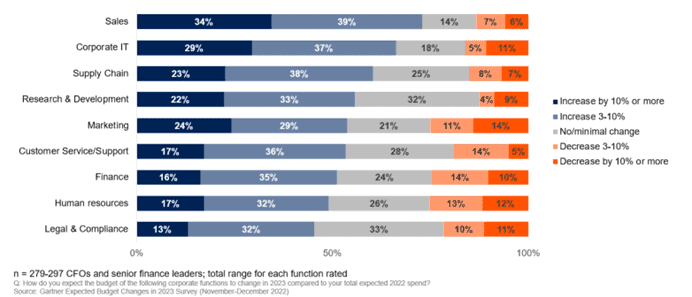 Chief Sales Officers (CSOs) feel increased pressure to run leaner and improve productivity of their teams as most 2023 budgets were scaled back, said Alexander Bant, chief of research in the Gartner Finance practice.
"However, CFOs know that to drive profitable growth into the next phase of the business cycle they can't be late turning back on additional funding for sales," Bant noted. "They are armed and ready across the coming months and quarters to accelerate this spend as they gain viability into the outlook."
CFOs plan budget changes to raise efficiency
While corporate IT is the second most likely function to see a budget increase, digital transformation is seen by executives as strategically important even in the face of rising costs, Gartner pointed out.
"Executive teams must enhance profitability and cashflow quarter-to-quarter across 2023, and they continue to embrace technologies that will simplify workflows, reduce people costs, and enhance overall productivity," said Bant.
CFOs, CEOs, and Boards of Directors are demanding better returns from technology investment dollars, Gartner observed.
"The corporate IT investment narrative is now far more focused on sure-bet digital projects with immediate and certain payback," Bant noted.
Supply chain shocks drive increased budget intentions
After a series of supply chain shocks in recent years that caused serious issues for many businesses, Gartner experts said that it's not surprising to see CFOs plan budget changes and prioritise spending initiatives in this area.
"Leading executives are working on rightsizing (likely reducing) their organization's supply chain surface area to limit the number of costly disruptions while inflation is forcing 78% of CFOs to budget more for cost of goods sold," Bant said.
Marketing spending intentions mixed
According to Gartner, 90% of marketing functions reported cuts at the height of the pandemic.
Even as recently as July 2022, most CFOs (79%) were either planning to maintain or reduce their marketing budget through the first half of 2023, the research firm said.
But this data suggests pandemic-depleted marketing departments may be in line for a boost in many firms, the firm added.
"CFOs are most polarised in this area with one quarter planning large increases in marketing of 10% or more, another quarter planning cuts, and the remaining half sitting somewhere in between." said Bant.
CFOs do not want to scale marketing down at the wrong time in the business cycle, he added.