In this post, we take a closer look at the recently published BARC study "Sound Decisions in Dynamic Times." What findings and insights can be derived for organizations and is it worthwhile to read it for yourself? Let's find out:
Is your organization agile and resilient? In the current times of crisis, these buzzwords common in FP&A and planning turn out to be very important characteristics for companies and it becomes clear how well positioned they actually are.
For the study "Sound Decisions in Dynamic Times," independent analyst firm BARC surveyed 275 people worldwide from various positions, industries, and company sizes. In their 35-page report, they provide interesting insights into the current state of planning and highlight where the journey is headed.
Technical progress & progress through technology
The report's entry into the study is hardly surprising: 89% of those surveyed see increasing dynamics in their business field. The digital age provides us, along with Netflix, Spotify, and the like, with one thing above all else: acceleration – so much so that there are already products and services for active deceleration.
Back to planning. Technical progress is accelerating markets and making them more dynamic. At the same time, there are more and more tools available to cushion acceleration, and even more, to profit from it.
While many companies still rely on Excel as their sole tool for planning, reporting and analysis, as can be seen from the BARC Planning Survey from earlier this year, many specialized providers have established themselves in the market.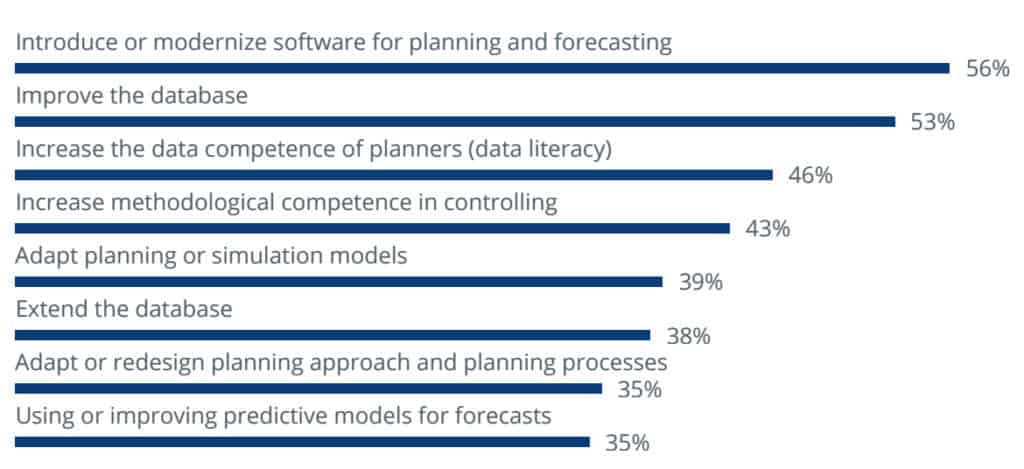 And the demand for modern tools is growing fast: In the most recent BARC Survey, 56% of those questioned stated that the introduction or modernization of software for planning and forecasting is one of the necessary investments to optimize processes. The improvement in data quality follows with 53%.
This finding is in line with what US-based FP&A expert Brian Kalish recently stated in his guest blog on data analysis: Data is abundant. Now it is a matter of making it usable and analysing it for added value.
New instruments for financial management
BARC's analysts also deal with newer financial management tools in the study. For example, about 42% of the respondents stated that they made the transition from classic year-end forecasts to rolling forecasts to react more quickly to increased market dynamics.
Simulations and scenario analyses were also mentioned more frequently this year. Instead of being left in a crisis with plans that are completely out of line, companies are using these instruments to prepare themselves for possible future scenarios.
They can simulate different outcomes and thus plan more reliably and more broadly, making the organization itself more resilient. And this is precisely where a decisive opportunity lies: according to the study, some companies are already using scenario analysis, but they still make relatively frequent use of Excel for this.
This requires valuable time, while others use specialized tools and thus are not only faster and more agile, but are also able to obtain more accurate results. If you want to stay competitive, the findings in this realm, starting from page 19, are certainly worth a read.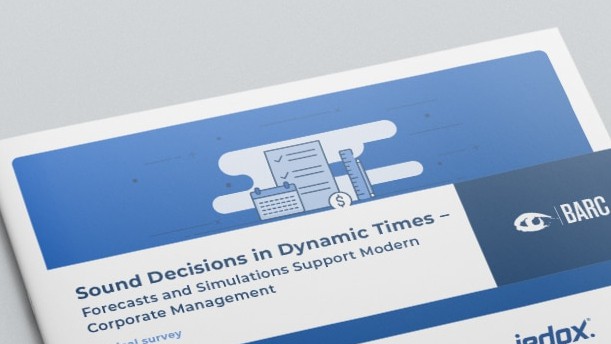 For further insightful figures and findings, download the complete report for the BARC study "Sound Decisions in Dynamic Times."
First published on Jedox