Finance is filled with numerous repetitive tasks (such as copying and pasting variables across spreadsheets), generating countless reports, and offering the CFO a snapshot of a company's liquidity position. And there is little or no room for human error.
It is why robotic process automation (RPA) often begins with finance. By removing manual repetitive tasks, it allows financial teams to focus on value-added tasks, and provides the operational dexterity for CFOs to scale or pivot when ready. It makes the CFO a strategic business partner for the organisation.
In a recent FutureCFO virtual roundtable titled "Secrets to Scaling the Automation Challenge", leading financial leaders from Singapore and Thailand discussed how to maximise the RPA advantage, while detailing the challenges they faced when deploying it.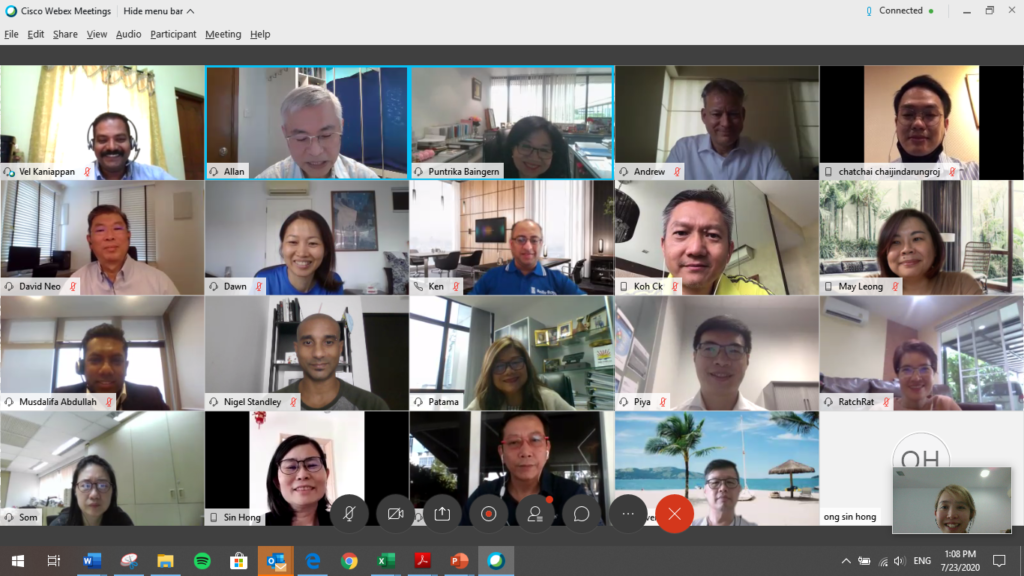 Overcoming the cost hurdle
You cannot start a conversation with CFOs without addressing costs. And for the roundtable participants, it is also their biggest challenge.
Even for Musdalifa Abdullah, chief financial officer at Dnata Singapore, who finds RPA's benefits as obvious. His company is already working on two RPA projects: one in finance and the other in cargo handling business. Both involved countless manhours of data entry. "So, we do a lot of data entry and are looking at RPA to remove this (repetitive work)."
Yet, Abdullah also sees costs as a challenge. Unlike an ERP project where the benefits are clear, he does not see immediate cost savings. It is because the bots need to take time to discover the entire process.
Sin Hong Ong, vice president-Finance at NatSteel Holdings sees RPA as an essential improvement & automation of finance and operation functions in modern organisations. She sees RPA as automating processes and freeing up manpower for other work. But she also sees RPA as a journey that modern enterprises need to undertake.
Some delegates cited cost as a reason for staying on the sideline of RPA adoption. One delegate note that for the moment, the automation afford by the ERP system is sufficient.
Jargons are not helping, said Steven Ho, finance director at TVS Asianics. He noted that because cost is a hurdle, it then becomes difficult to get the budget. "Especially for senior management (who are) traditional ones; it is then difficult to sell the idea."
Despite the concerns over cost, analysts believe that RPA benefits outweigh initial cost concerns. A Forrester Consulting study titled "The future of work is still being written, but who is holding the pen?", commissioned by UiPath, argued that "automating repetitive, rule-based tasks enables employees to focus on higher-value activities that require advanced skills, improves employee engagement, and translates to happier customers."
Vel Kanniappan, APAC finance leader at UiPath, who hosted the discussion, reframed the question of cost to time optimisation.
"RPA would help us optimise our time in trying to do what we are supposed to do. In terms of time, we spend less gathering information and a lot more on what we are supposed to do – analysing it for insight," he explained.
Identifying the benefits becomes harder when you target the wrong processes. David Neo, vice president for presales in APAC at UiPath observed that "RPA is actually a way of taking the robot out of humans, so that the humans don't have to act as robots, and they apply to all systems in the company. The big question then is what process gives the most value."
He noted that starting RPA on the complex processes where a much longer time to value is realized may not deliver the promised value. It is one reason why UiPath spends time identifying the right processes be they for front-office or back-office, where large teams spend a lot of time on repetitive work with data.
Kanniappan opined that the cost-benefit analysis for RPA only works out if the process is not originally broken. "If we are trying to lead RPA on a broken process, it doesn't help at all because we are going to just build something which is already broken."
Scaling – the RPA problem no one talks about
One of the key benefits of RPA is its ability to scale. The math is obvious. With human workers coming at a premium (especially during a health pandemic where health and safety and human mobility are concerns), deploying software bots allow companies to grow fast. Besides, RPA bots can instantly learn from previous bots, shortening the learning curve. And there are no onboarding and additional employee costs.
Yet, many RPA projects are facing scaling difficulties. For Koh Choon Kong, group financial controller at Summit Power International, finding right processes to scale is part of the problem. "If you were to do any RPA, you should have monotonous or routine transactions that are repetitive for at least 1,000 transactions. We are a small team, and do not have so many routine transactions, so I can't see any case to do this (at the moment). But I am open."
Scaling to low-cost countries can be difficult to justify as labour cost becomes a challenge.
One delegate noted that some of the more traditional businesses will likely find it easier to hire people than introduce new technologies like RPA.
While Diageo Moet Hennessy is already looking to scale, its chief financial officer, Ratiporn Ratcharoen, saw complexity in the way its various countries and regions operate. Before scaling, she advised companies to standardise.
"So [every country operation] wants to be unique, in some sense. Harmonising and standardising the processes are important," Ratcharoen said.
One approach suggested by the participants is appointing an RPA champion. Puntrika Baingern, senior executive vice president and chief financial officer at Muangthai Insurance observed that this champion was at first their partner. Later it was an internal person who started championing RPA across the company before scaling. "Although my issue right now is that the one who leads the RPA resigned," she added.
Creating a centre of excellence (COE) allows companies to standardise and scale easily, while addressing the different requirements of every department or country, while ensuring that the knowledge is shared across different people.
"We need to build a centre of excellence. And that is important for two reasons. One is that it helps us to build scale. At the same time, it helps us to ensure that we are democratising RPA," said Kanniappan.
Ken Ajinkya, chief financial officer for Asia Pacific & Middle East at Rolls-Royce Power Systems/MTU agreed. "We had this whole thing called Digital Academy and digital champions. And these are the team members who (helped with the real) change. It's not one size fits all, especially from an RPA perspective."
UiPath's Neo went further and called for a central COE working with federated COEs. This allows companies to drive standardisation, while building local talent and addressing domestic requirements more effectively.
However, Chatchai Chaijindarungroj, head of corporate strategy at CPALL noted that whatever approach a company uses to scale RPA, you need to address the people issue.
One example is the resistance of middle management from moving people under them as it may introduce changes in job scope. While Chaijindarungroj admits seeing real productivity increases with RPA deployments, re-deploying or upskilling those people whose jobs that RPA bots have taken over becomes a challenge when "their boss is not willing to."
Becoming people focused
A key advantage of RPA is that by removing repetitive tasks, human workers are empowered to focus on tasks that require human decisions. Essentially, you are shifting the value proposition of human employees.
Rolls-Royce Power Systems's Ajinkya sees this as a powerful proposition. "Because if you take care of your people, your business will be taken care of by them."
It is one reason why he sees great promise in the next phase of RPA, which is adding artificial intelligence capabilities.
"We put planes in the sky, but we wouldn't do that, at least not today without having the right people behind it. You need to have them feel that they can achieve and climb the greatest mountain," added Dnata's Abdullah.
"When you talk about RPA, it's not about automation per se; it is about people. Because we are maximising the potential of people as well," said Neo.
An added advantage of RPA is modernising the company operations. Neo noted that during the discovery process (when the actual process is mapped out in terms of people's actions) companies discover how outdated some of their processes are. "They are surprised that it isn't what was described in the ERP manual."
From this perspective, RPA offers a step forward for companies to rationalise their current processes, identify the gaps, and create a more lean and adaptive organisation.
As Kanniappan pointed out throughout the discussion, being lean and adaptive will matter more as companies navigate the current health pandemic and prepare for a "new normal" market landscape.
"RPA is going to eventually take over most of the things which we do, and at the same time give us a lot of time for us to think and then do what humans should be doing," he concluded.