Asian countries expect to see an average pay raise of 4.3% in 2021, compared with the average of 3.2% increase this year, said ECA International recently.
Outside of Asia, the outlook is very different for many nations, including many which are expected to see decreases to real salaries. This includes major economies such as the United States and Saudi Arabia, the firm pointed out.
The average real salary increase — which reflect increases in employee incomes after inflation — across the APAC region is forecast to be 1.7% which is significantly higher than the global average of 0.5%, said Lee Quane, Regional Director - Asia at ECA International.
However, the average level of inflation in Asia is forecast at 2.4% which is not far off the global average, and the real driver for the higher real salary increases in the APAC region is the sustained increase in productivity in many Asian nations, resulting in higher salary increases for workers, he said.
In terms of real salary increases, Asian countries once again dominate the top of the rankings, with eight of the top ten highest real salary increases expected to be seen in Asian nations, according to ECA.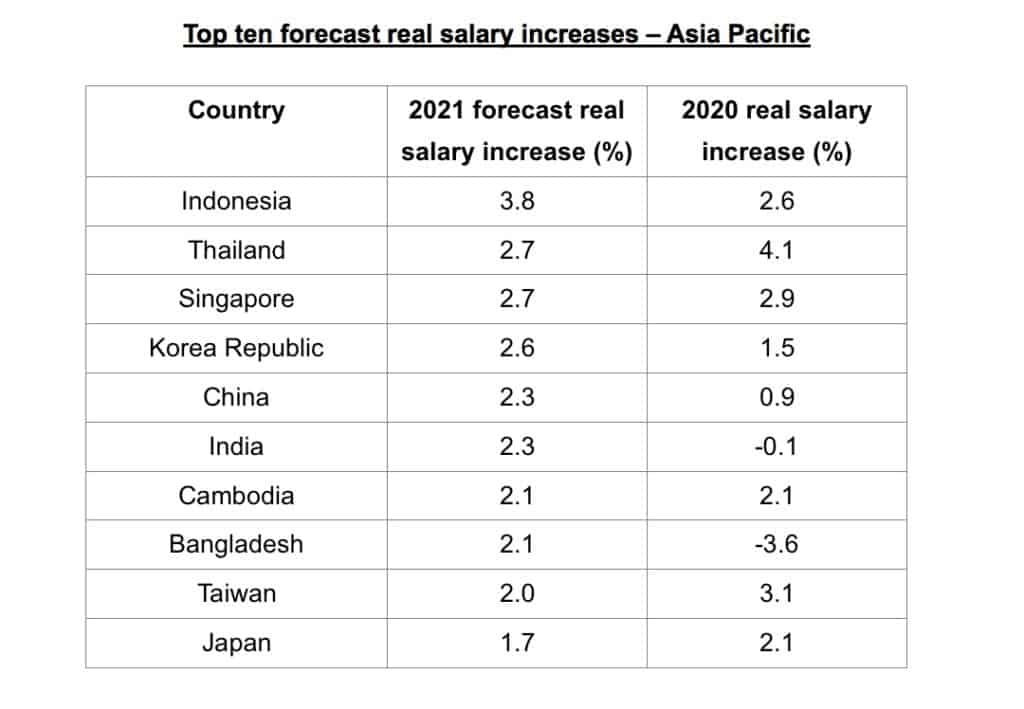 Salaries in China
Workers in China will also see a recovery in the rates at which their salaries will grow in 2021, said the firm, adding that workers can expect to receive a 5% salary increase on average next year, up from 3.8% in 2020.
China's economy seems to have weathered the impact of the pandemic better than many other locations in the region and this is reflected in the extent to which salaries are forecast to grow again in 2021, Quane explained.
Salary growth rates in China will only be surpassed by 5 other countries in the region, including Bangladesh and Pakistan which generally need to provide high rates of salary growth in order to enable workers' purchasing power to keep pace with relatively high rates of inflation, ECA said.
But once inflation is factored in, the real incomes of workers in China will grow by 2.3% in 2021, the firm added.
Salaries in Singapore
Salaries in Singapore will grow at a faster pace in 2021 in comparison to this year, according to ECA.

In addition, once inflation is taken into consideration, Singapore-based employees are likely to see a growth in their real salaries of 2.7%, which will be among the highest in the world and the joint second highest in the APAC region, ECA noted.
Singapore is expected to be joint third highest in our global rankings for real salary increases, and joint 2nd in the APAC region, despite the fact that the increase in 2021 is forecast to be lower than workers saw this year, Quane said.
The country has experienced consistently low inflation in recent years, even seeing deflation of -0.4% last year, and next year is no different with an expected inflation level of just 0.3%, ECA said.
This will result in higher real salary increases for workers compared to countries with higher inflation such as Hong Kong, the firm pointed out.
"The expected rise in salaries next year is largely due to fewer companies implementing salary freezes, with only 22% of those surveyed saying they will continue to freeze salaries into 2021, compared with 36% this year," Quane explained.
Indonesia to see highest real salary increase
Indonesia leads the way in this year's APAC ranking list for real salary increases with a forecast increase of 3.8% — significantly higher than the joint second-place nations of Singapore and Thailand, where the increase is expected to be 2.7% in comparison, according to ECA.
Few countries are expected to see a significant rise in the level of real salary increases in 2021, but there are exceptions to this within the APAC region and Indonesia is one of them, Quane said.
"Inflation in Indonesia is expected to continue falling, repeating the trend we've seen in the country in recent years, but additionally fewer companies intend to freeze salaries, so the nominal increases have therefore risen," he explained.
Though 42% of ECA's surveyed companies in Indonesia implemented a salary freeze this year, only 24% of these will do so in 2021 – contributing to the rise in average salary increases in the country, Quane added.
Salaries in Hong Kong
In Hong Kong, businesses are hopeful of an economic recovery in 2021 and are expecting salaries to increase by 3.0% on average in 2021, compared with 2.1% this year, according to ECA.
Real salary increases will be relatively low in Hong Kong in 2021, at 0.6% after taking forecast inflation of 2.4% for 2021 into consideration, ECA pointed out.
"Real salaries for Hong Kong residents, forecast to be 0.6% next year, will be among the lowest in the region, Quane said. "This compares unfavourably with expected rates of real increase in Singapore of 2.7%."
In addition, there is expected to be a major drop in the number of Hong Kong-based companies implementing salary freezes in 2021.
Survey results indicate that 40% of organisations in Hong Kong applied salary freezes this year amid the pandemic and the devastating effect it had on the economy.
However, in the face of a possible vaccine being rolled out next year, only 25% of companies are expecting these freezes to last into 2021 — offering signs of improvement to businesses and employees based in Hong Kong, Quane said.