Employers in Asia Pacific project pay rises at an average of 5.3% this year, as countries in the region continue to navigate the COVID-19 pandemic, said Willis Towers Watson lately.
Last year, companies were forced to revise down their pay rise budgets, leading to an average increase of 5.4% in 2020, compared to 5.6% of actual salary increase in 2019), according to WTW's latest Salary Budget Planning Survey report.
This year, companies in 13 out of the 20 markets have decreased their 2021 average salary increase forecasts, the firm said.
Survey highlights
Companies are looking ahead to 2021 with cautious optimism to restore stability post-pandemic, especially in countries such as Australia, China, New Zealand, Taiwan and Thailand. 
On the other hand, salary increase forecast in India has dropped the most by 1.1% to 7.9% this year (vs 9% in 2020).
The number of companies expecting to freeze pay is expected to decrease sharply this year, in a further sign of cautious optimism for 2021. 
Last year saw nearly a-third (30%) of private sector companies in Asia Pacific freeze pay increases as they were curtailing costs. This is expected to fall to 13% of companies this year with 87% of companies expecting to conduct a salary review (vs 70% in 2020).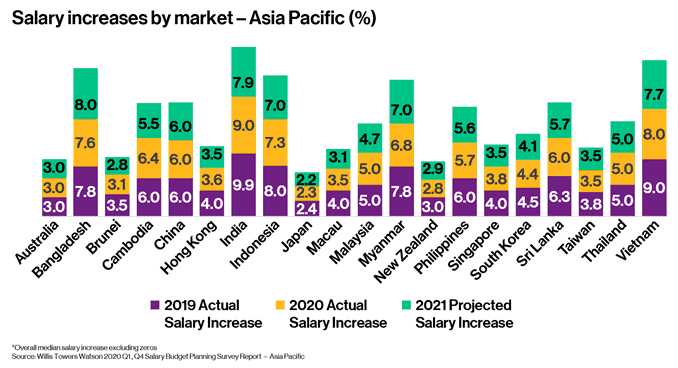 Post-pandemic growth in key industries drive pay and talent trends
Different industries have experienced differing fortunes during the pandemic, and that is reflected in anticipated pay rises for 2021, with some businesses somewhat less affected under the pandemic, WTW noted. 
The most optimistic industries are pharmaceutical and health services, and high tech which are forecast to have a salary increase of 5% or more this year, the firm pointed out.
These industries will continue to see an increase in demand for talent as employers in these sectors prepare for growth and development opportunities in 2021, the firm added.
At the peak of the COVID-19 crisis last year, many organisations took the opportunity to rethink their business development strategies while digitalisation has played a key role in accelerating organisation transformation in many markets, Edward Hsu, Business Leader, Rewards Data & Software in Asia Pacific at WTW.
This shift has had an impact on talent demand trends, he observed.
"In markets such as China, India, Indonesia, South Korea and Japan, roles in Sales, Data Science and Risk Management have had the highest compensation increase," Hsu said. "These functions saw a higher demand for talent and movement in pay."