Businesses around the world, including those in Asia-Pacific, are starting to improve their disclosure of climate risks but are not taking needed action to address these risks and respond to the needs of investors and customers.
The 2022 EY Global Climate Risk Barometer examines the efforts of more than 1,500 businesses in 47 countries to publish information based on the 11 recommendations set by the Task Force on Climate-related Financial Disclosures (TCFD), which was established to improve and increase reporting of climate-related financial data.
What the report reveals
The report noted that more organisations are now providing some level of information (better coverage) on each of the recommendations than in previous years. Where a score of 100% would show information being disclosed on all recommendations, this year's average score is 84% – a sharp increase from 70% in 2021.
In terms of the quality of disclosures, companies have a long way to go. The average quality score sits at 44% – just slightly above the score of 42% recorded in last year's survey.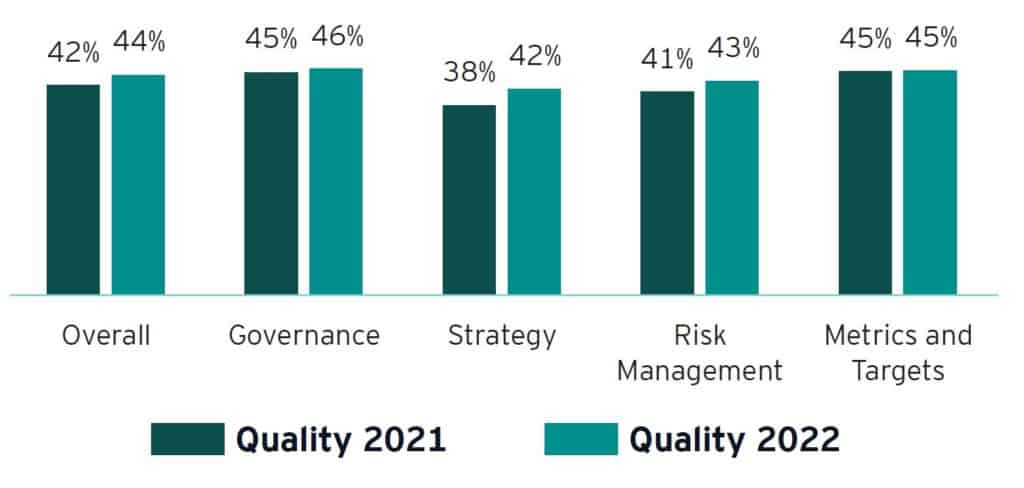 There is good news in Asia-Pacific. Japan follows the UK as the second-highest performer globally for both coverage (96%) and quality (56%), which reflects the advanced regulatory environment in the country when it comes to climate disclosures.
South Korea (96% coverage, 54% quality) and Oceania (87% coverage, 48% quality) have both outperformed the global average scores. However, Greater China (81% coverage, 43% quality) and Southeast Asia (69% coverage, 29% quality) have some additional scope for improved disclosure.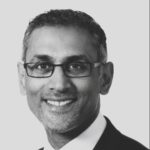 Terence Jeyaretnam, EY Asia-Pacific climate change and sustainability services leader, noted that while the research shows notable improvements in disclosure quality and coverage for most Asia-Pacific markets, the findings also reveal the fragmented approach across the region when it comes to mandatory climate disclosures.
"Those markets that produced the most advanced reporting benefit from strong climate disclosure regulations and reporting practices, proactive investors who lobby for change, and clear signals from policymakers on the way forward," he added.
Still, a long way to go
Despite burgeoning regulatory and political activity around climate change, and clear improvements in disclosure rules over the past 12 months – including the proposed standards from the newly created International Sustainability Standards Board (ISSB) – businesses are struggling to take practical steps toward decarbonisation.
For example, only 29% of companies worldwide surveyed say that they report on the impact of climate change in their financial statements – a sign that they don't have the data they need or that they have not calculated the impact.
Areas most improved
One area in which companies have shown a particular improvement is strategic planning around climate risk. The barometer scores organisations' strategies by examining, for example, the extent to which they factor climate risks and opportunities into their plans or how they build resilience through diversification. The global coverage score for strategy has risen to 81%, from 65% in last year's survey – indicating that more companies are at least disclosing some information in this area.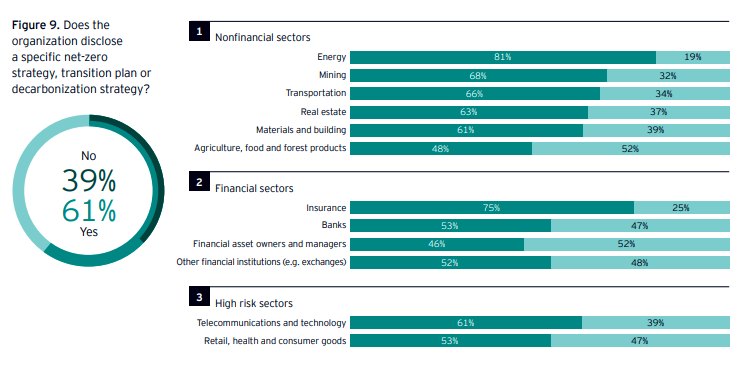 The report also highlights several steps companies can take to accelerate decarbonisation for their own organisations and the wider economy. These include treating disclosure to an end, not an end in itself; setting meaningful targets; and exploring the opportunities borne out of climate impacts, as well as the risks.