Singapore has remained the most liveable location in the world for expatriates from East Asia in 2022, despite seeing the overall liveability score worsen, said ECA International recently when releasing its latest Location Ratings survey.
The island-state remains the most liveable location in the world for overseas workers from other locations in East Asia, fighting off competition from Wellington, New Zealand and various Japanese cities, according to Lee Quane, Regional Director – Asia at ECA International.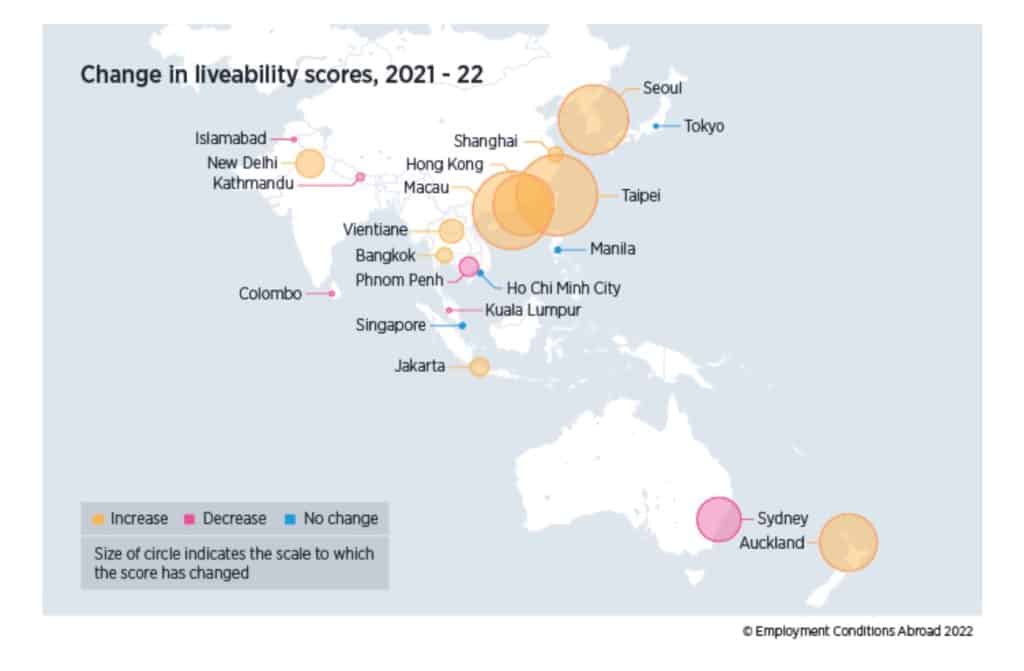 Asia Highlights
Elsewhere, many other Asian locations have fallen significantly in the rankings in the past 12 months, with the impact of the Covid-19 pandemic being the cause in many cases.
Macau, which remains one of the most sealed off locations, dropped 30 places in our rankings in the past 12 months.
Many locations in India, which placed widespread restrictions on movement to combat the spread of Covid-19, fell in ECA's rankings, as did many locations in China which have witnessed a continued disconnection from the world as they have suspended direct air connections with international cities.
Hong Kong is now just the 77th most liveable city in the world, down 19 places from last year.
Hong Kong has seen a significant drop in our latest liveability rankings partly as a result of the increasing censorship of local news and media, impacting on the 'freedom of news and media' aspect of the overall liveability score, Quane pointed out.
At the same time, many locations which were ranked below Hong Kong last year have relaxed many Covid-19 induced social distancing measures resulting in them moving up our global rankings and overtaking the city, he observed.
Taipei was the biggest faller in the rankings, dropping 31 places from last year to tie with Hong Kong as the 77th most liveable location, according to ECA.

Taipei is normally a fixture in the top 50 most liveable global locations but saw a notable drop this year, Quane noted.
Part of this fall was due to the ongoing effects of Covid-19 restrictions reducing recreational activities for residents, he said, adding that the city is also witnessing a growing housing crisis in the city with a shortage of accommodation for Taipei's growing expatriate population.
"The silver lining for expatriate workers though is that this is not expected to be a long-term trend, and we will hopefully see an improved score as soon as pandemic-related restrictions eventually begin to ease" Quane predicated.
Thai cities Bangkok and Chiang Mai also experienced a drop in their ranking, and both sit well outside of the top 100 cities, in 115th and 118th position respectively, according to ECA.