Finance leaders may have noticed one invoicing trend that emerged in the last couple of years – the way invoices arrive at their organisations has quite clearly changed. Before Covid-19, they were probably brought in by the mailman. Now, with remote and hybrid work commonplace, most invoices are delivered through employees' and the finance team's email accounts.
While e-invoices support today's digital work processes, they introduce new risks. Social engineering attacks and other forms of fraud targeting finance employees have surged through the pandemic.
Like many documents, soft copies of invoices are easier to replicate than paper ones. With employees working from outside the office, it is also challenging and time-consuming for finance personnel to verify the authenticity of invoices with colleagues.
Quite often, dubious invoices are not detected, or given the benefit of doubt and paid out when payment is due.
Social engineering attacks are likely to continue post-Covid, as organisations give employees the flexibility to work in a hybrid working environment. Finance leaders should take immediate steps to mitigate the fraud risks and protect their firms against such unwarranted financial losses.
Automated verification
An effective way to handle e-invoices is to have a trusted 3rd party confirm their authenticity before payment is facilitated.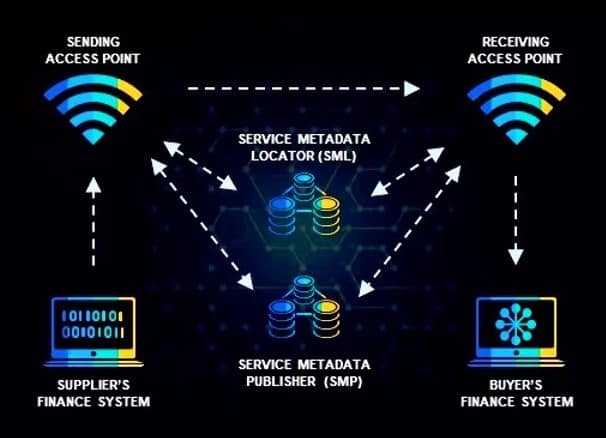 A secure e-invoicing network that links a global ecosystem of business entities can come in handy. Dedicated network authorities verify the authenticity of the invoices as they travel between systems through the network, and this allows for the prompt facilitation of electronic payments – locally and across borders – to the companies and governments involved.
The Pan-European Public Procurement On-Line (PEPPOL) framework is an example of such a system.
The PEPPOL open standard enables the exchange of standardised machine-readable documents over its network. Companies (suppliers) send their e-invoices to an approved Access Point (AP) Provider, which checks and verifies the receiving of the company's PEPPOL address through the Service Metadata Publisher (SMP). The AP Provider then sends the document to the relevant receiving AP Provider, and then to the receiving party (the buyer) for processing.
An e-invoicing network benefits businesses in multiple ways. Besides reducing rogue payments, organisations can cut costs, speed up payment processing, improve efficiency, and gain greater access to financial services and transparency. In the longer term, fully automated systems like PEPPOL reduces businesses' reliance on manual processes, allowing them to scale swiftly.
PEPPOL has currently been adopted by Singapore, Australia and New Zealand in the region, and another 31 countries around the world.
Governments encouraging private sector adoption
Singapore, Australia and New Zealand have been taking steps to get companies based there to use the system.
In 2018, Singapore's Infocomm Media Development Authority (IMDA) became the first national PEPPOL authority outside of Europe and the first National Authority in Asia to adopt the standard.
Australia goes a step further. The government commits to pay suppliers using PEPPOL earlier compared to other vendors ― in five days for sums up to AU$1 million. New Zealand has similarly committed to a 10-day payment term for invoices up to NZ$1 million.
SAP Concur hopes that regional governments already using PEPPOL could use their influence to encourage other countries transacting with it to adopt the system. Malaysia and the Philippines, for instance, have already expressed some interest to join the network.
If large buyers of goods and services, such as the US, China and Japan were to further join the network, more companies will come on board and the system's security and efficiency benefits can be extended to many more parties. This means the 130 million or so transactions that PEPPOL currently handles globally can get a sizeable boost.
Implementing PEPPOL
Finance leaders keen to get a head start before transitioning to PEPPOL can consider moving to a semi-automated mode – or accounts payable (AP) automation – to allow both internal and external stakeholders time to understand their vision and gain trust in the underlying technologies.
This will enable them to move smoothly to full automation over time. It is also important to note that it won't be easy to drive all your supplier invoices onto the PEPPOL network, so the final state may require the combined use of both solutions.
Hopefully, Asian governments can give businesses here a nudge in the right direction by running assistance schemes and providing incentives to them to adopt AP automation tools like OCR processing, automated checking of transactions, and automated invoice approval and reconciliation.
Businesses that want to drive accounts payable efficiency should take a closer look at PEPPOL. Only when organisations' invoice management process is fully automated, can they truly enjoy spending visibility and control, efficiency and compliance.